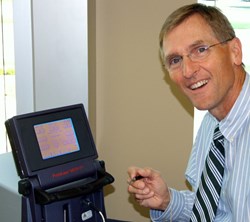 (PRWEB) November 20, 2013
November is Diabetes Awareness Month and Richardson, TX dentist Dr. Kerry M. Goad of Goad Dental gives patients new ways to minimize their risk of developing gestational or Type 2 diabetes, or to better control any existing diabetes, with effective gum disease treatment methods. Monitoring gum health can easily be done at home as tender, swollen or bleeding gums as well as gum recession are early signs of infection and can alert patients to their need for care.
The dental and medical worlds together have known for many years that people with diabetes are under greater risk for the development of gum disease because their systems have limited opportunities to fight off infections. The latest studies have now confirmed that the link between these two conditions is even closer as people with gum infection, especially if left untreated, increase their chance of contracting diabetes.
When periodontitis is present and gum recession occurs, bacteria are released through the bloodstream and travel throughout the body. Naturally, the body works to combat this infection and, as part of the response, blood sugar levels rise. For people who already have diabetes, this can be serious and reduce the effectiveness of their diabetic treatments or increase their chance of eye damage, stroke, heart attack, kidney damage or more. Other people put themselves in greater danger of eventually developing diabetes by prolonged exposure to blood sugar levels that are higher than normal.
Dr. Goad is proud to be among the leading providers of periodontal treatment providers in his field and wants all Richardson, TX residents with diabetes to take note during this November Diabetes Awareness Month of any signs of periodontal infection, including gum recession. Patients are encouraged to contact Goad Dental at http://www.dallasgumsurgery.com or (972) 690-6653 to learn how they can reduce their risk of diabetes or better manage their diabetes by controlling gum infections.
About The Doctor
Goad Dental is a general practice offering patients personalized dental care in Richardson, TX. Dr. Kerry M. Goad received his Doctor of Dental Surgery (DDS) from Baylor College of Dentistry in Dallas, Texas. He completed advanced training in restorative dentistry at the L. D. Pankey Institute in Key Biscayne, Florida, and is part of one percent of dental professionals providing the LANAP FDA cleared laser procedure for gum disease treatment. To learn more about Goad Dental and their dental services, visit their website at http://www.dallasgumsurgery.com and call (972) 690-6653.