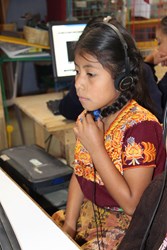 RACHEL allows developing communities to focus precious resources on other basic needs by providing rich educational content at no cost. Spanish RACHEL opens a new continent of users to the world's best offline, digital content.
San Francisco, California (PRWEB) November 22, 2013
With an existing user-base in 26 countries for RACHEL in English, San Francisco based World Possible is proud to announce the release of RACHEL in Spanish. RACHEL is one of the most innovative technology tools for delivering educational content to developing communities. RACHEL, an acronym for Rural Area Community Hotspots for Education and Learning, is a software package that offers more than 2000 thousand Khan Academy math and science videos, a searchable version of Wikipedia, hundreds of books available through the Gutenberg project, educational games, Hesperian Health Guides and more.
The OER content is all open source, free, and currently accessed by tens of thousands of individuals in Sub-Saharan Africa and South East Asia.
RACHEL is now available in either language for free download or the cost of a 32GB USB "stick". Content can be copied onto a dedicated server, individual computers, or viewed directly off of the USB stick. World Possible also offers a 32GB SD card that can be plugged into the $35 Raspberry Pi, instantly creating a wi-fi hotspot for any number of users to view videos or other content simultaneously on laptops, smart phones and/or tablets. Donors can support RACHEL through World Possible's crowd-funding campaign at Indiegogo.
Executive Director Jeremy Schwartz commented, "RACHEL allows developing communities to focus precious resources on healthcare, food, and other basic needs by providing rich educational content at no cost. After years of providing these free digital educational resources to English speaking communities, we are thrilled to reach an entirely new set of users in need with our Spanish package."
The Spanish language version of RACHEL was launched in October in Guatemala. A World Possible volunteer visited the country and installed RACHEL in four Riecken Community Libraries in Huitán, Cabrián and San Carlos Sija, Quezaltenango and San Juan La Laguna, Sololá. In addition, RACHEL was installed in both English and Spanish in several schools and NGO porjects outside of Antigua. Work is already underway to customize RACHEL and add local, country specific content in both English and Spanish.
Downloads in both languages are available through the World Possible website at http://www.worldpossible.org or volunteers are available to assist with USB or Raspberry Pi files and suggested hardware configurations.