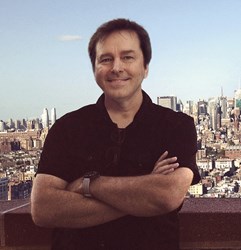 Fort Lauderdale, FL (PRWEB) November 25, 2013
John Boone, an award-winning freelance art/creative director; former founding partner of BooneOakley and current founder of Guns & Kittens will be speaking on December 5 at the The Classic Gateway Theater in Fort Lauderdale, FL. He has freelanced for agencies like Wieden+Kennedy, BBDO-NY, Mullen-Boston, DDB and more. Some of his honors include Time magazine's "Commercial Of The Year," USA Today's "TV Commercial Hall of Fame," Comedy Central's "World's Funniest Commercials", and appearing on AMC's "The Pitch."
John's leadership helped BooneOakley win accounts like MTV2, CarMax, NASCAR, State Farm, Ruby Tuesday, Bojangles, and Paramount Parks. He was part of the reason why the agency got named Ad Age's "Southeast Small Agency of The Year" as well as The One Club's "Best of The Digital Decade." Thanks to his creative nature and through the creation of the world's first YouTube website and the blow up of a Ruby Tuesday restaurant during a live web event, John helped BooneOakley establish an international reputation for buzz-worthy innovations.
Guns & Kittens, a creative consultancy, is John's most recent launch. The name, curious alone, is a perfect ice breaker. The words guns and kittens are extreme opposites which when compared can generate an interesting dangerously cute conversation. The name is promoted creatively through gun-handle coffee mugs, bullet-shaped thumb drives and business cards with a pistol-grip texture. The business is doing great and has great projections. Like John said: "The biggest challenge now, is getting the bullet-shaped thumb drives through airport security."
John Boone, former founding partner of BooneOakley. Now freelancing for the world's greatest agencies. How he found the time to grace us with his presence is just one of the questions you can feel free to ask in person. Join us for an exciting AdFed event featuring Creative Director John Boone.
John Boone
December 5th
7:00 pm - 9:45 pm
The Classic Gateway Theater
1820 East Sunrise Boulevard
Fort Lauderdale,FL 33304
Members $30 - Non-members $40
Students $10 (With valid student ID)
Complimentary beverages
Itinerary:
Time: 7:00- 7:30pm – light refreshments and networking
7:30pm— 10:00pm — Presentation from John Boone and Q & A