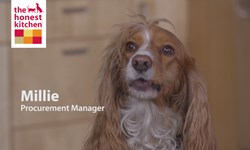 We really felt that allowing our office dogs to do the talking would be a unique and fun way to get our story across.
San Diego, California (PRWEB) November 21, 2013
The Honest Kitchen, a producer of healthy, natural, human-grade pet food products, has released a short brand film, in which employees' own pets are left to deliver the company message by talking openly about ingredients, procurement, production, and quality control.
The short film is shot inside The Honest Kitchen's company headquarters and on the streets of San Diego, and was produced by Emota, a local digital story-telling agency. The film centers around the company's human-grade pet foods and also discusses the misfortune of those cats and dogs who are left to eat heavily processed old-fashioned pet food products like kibble and canned diets.
"We really felt that allowing our office dogs to do the talking would be a unique and fun way to get our story across," commented company founder and CEO Lucy Postins. "Our pets are the focus of everything we do at The Honest Kitchen. They're the reason we choose to invest in better quality human-grade ingredients, and why we produce our recipes in a human food facility. The choices we make around product integrity and quality are centered squarely around what is right for the health and well-being of pets because we believe they deserve to eat proper food that's healthy, natural and honest. So it makes perfect sense that they should be the ones to convey our message."
The Honest Kitchen's pet foods are dehydrated, which results in a compact, nutrient-dense finished product. By removing just the water from fresh foods, the company's finished products are colorful and actually contain real, recognizable, pieces of the raw ingredients, packed with most of the goodness that nature provided. Pet owners just add warm water,to make a real-food meal in three to five minutes, and because the food is so concentrated, a 10lb box will actually yield 40lbs of food when hydrated and will last a 30lb dog up to 6 weeks.
The company's brand film really seeks to provoke pet guardians into questioning the use of conventional processed pet food pellets, and ask themselves why anyone would want to pulverize, heat and extrude raw ingredients into pellets just for the sake of convenience.