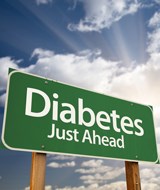 the progression from pre-diabetes to Type 2 diabetes can be stopped or slowed by adopting well-defined lifestyle changes.
Wyckoff NJ (PRWEB) November 21, 2013
According to the CDC*, more than one-third of U.S. adults (35.7%) are obese, making them prone to obesity-related conditions that include heart disease, stroke, type 2 diabetes and certain types of cancer, some of the leading causes of preventable death. About 26 million people in the U.S. now have diabetes, and an alarming 79 million people (25% of our population) are pre-diabetic.
The progression from pre-diabetes to Type 2 diabetes and the development of diabetic complications follows a predictable pathway that leads to a high incidence of serious diseases, classified as "diabetic complications". These diseases include damage to the large blood vessels, diabetic neuropathy, diabetic kidney disease and retinopathy.
The good news buried beneath the dire outcomes associated with diabetes complications is that the progression from pre-diabetes to Type 2 diabetes can be stopped or slowed by adopting well-defined lifestyle changes. These lifestyle changes include dietary changes and implementing a program of regular physical activity. Along with these lifestyle changes, dietary supplements such as alpha lipoic acid, will help combat oxidative stress and its impact on insulin resistance.
A recent article** in the August 2013 issue of NutraIngredients-US, cites a Frost & Sullivan report indicating that 1 in 3 Americans is expected to develop Type 2 diabetes by 2050, and that foods and supplements targeting pre-diabetics and Type 2 diabetics would appear to have enormous potential for moderating the epidemic. Frost & Sullivan executives stated that "Solutions are out there, citing alpha lipoic acid (claimed to improve the body's ability to use insulin and lower blood glucose levels), chromium (claimed to help control blood glucose levels), and cinnamon (claimed to enhance insulin signaling pathways and assist with regulating blood glucose levels), but awareness remains low."
"Alpha lipoic acid and in particular our ThioGel formulation of alpha lipoic acid can play a major role in supporting lifestyle changes aimed at halting or reversing the progression from pre-diabetes to Type 2 diabetes" stated Gerald Bruno, Ph.D., CEO and Founder of Ethical Alternative Products. "The high bioavailability ThioGel formulation is unique among commercial alpha lipoic acid products, and has been used successfully by integrative medicine practitioners for more than 10 years" stated Bruno. Ethical Alternative Products is making an effort to increase the awareness of the benefits of supplementing lifestyle changes with high quality and high performance natural products, by making ThioGel solubilized alpha lipoic acid available to new users for a 60-day complimentary trial at http://www.thiogel.com.
About Ethical Alternative Products
Ethical Alternative Products is a dietary supplement supplier that is focused on the research and manufacturing of a select group of scientifically sound, broad-use supplement products. The company mission is to develop and produce high-value supplements, employing innovative formulations and the highest quality raw materials. Products produced by Ethical Alternative Products include ThioGel, ThioGel-L triple antioxidant liver formulation, OmniFlex multi-nutrient joint health product and Tendonex topical pain reliever.
*Centers for Disease Control and Prevention.
http://www.cdc.gov/obesity/data/adult.html
** Tackling the diabetes epidemic: Blood glucose management "a significant untapped market" says Frost & Sullivan.
http://www.nutraingredients-usa.com/Health/Blood-sugar-management/Tackling-the-diabetes-epidemic-Blood-glucose-management-a-significant-untapped-market-says-Frost-Sullivan/?utm_source=Newsletter_Product&utm_medium=email&utm_campaign=Newsletter%2BProduct&c=ZQAjVUBb6FWVjknvEfXyQQ%3D%3D