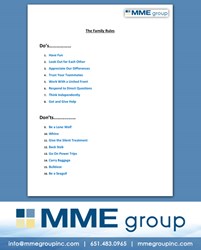 The MME Family Rules sets an expectations of mutual respect and agreed upon behavior so we can work together more effectively. It also empowers team members.
St. Paul, MN (PRWEB) November 22, 2013
MME group, a full service plastic injection molding company, increases communication. In September 2013, a team of 15 managers rolled out an original communication strategy that involves all MME group employees. Now, employees find their work environment a more inclusive, fulfilling place to work.
In spring 2013, MME group managers met to discuss strategies that would break down residual barriers. They agreed on collective goals to improve communication between department leaders; to encourage people to ask for help and receive it; and boost sharing of resources to meet overall company goals. To reach this end, the managers met and were paired with a person whose work style was different. The purpose was to consider ways to effectively work with an opposite personality.
"Given our desire to foster a family atmosphere at MME where members are honest, candid and are genuinely interested in each other's success, we wanted a mutually agreed upon set of simple communication and behavior ground rules that could easily be hung in the office like it would be on a refrigerator in a traditional family home," said manager Vicki Croce.
"We work with thoughtful, intelligent adults. Anything that felt like a top-down directive raised concerns. We also wanted something we could measure and teach to others. Working in pairs as we brainstormed a program also reinforced the ideas of teamwork, trust and communication that we placed on the forefront of this initiative," said manager Lindsay Riggs.
Managers Mark O'Hanlon, MME group's Quality Manager, and Pete Heppner, MME group's Tooling Manager, volunteered to work together. They came up with the first set of Dos and Don'ts in June. Managers then decided on a list of 8 Dos and 8 Don'ts that they wanted to see permeate all staff members, to facilitate a positive MME group's culture.
To meet the "Family Rules" objectives, employees place a red marble in a glass jar when someone is observed exhibiting one of the "Don'ts." Employees put a green marble in the same jar when someone is caught behaving inline with the "Dos." The jar is located on the front desk of the Company's lobby.
"The MME Family Rules sets an expectation of mutual respect and agreed upon behavior so we can work together more effectively. It also empowers team members to provide feedback when someone is not following the family rules," said O'Hanlon.
"The constant visual reminder keeps people engaged, and also lets them see how verbal and non-verbal communication around the office is both negatively and positively affecting people. The act of putting either the red or the green marble in the jar is an act of communication itself. We are very pleased with the positive results and consistent participation we've received," said Riggs.
Croce agrees: "The anonymity allows for honesty in doing so. It's also fun! Someone placed all green marbles in the jar and one red. Within minutes a dozen emails were sent out about the prank. We can see that our family rules at MME are working in the right way. People say things like 'Nice job! I'm putting in a green marble for you!'"
If you would like more information about the ways in which your company may benefit from implementing your own MME group's Family Rules, feel free to contact us at info(at)mmegroupinc(dot)com. Offering you more information is just another way the Company follows its own rules; Give and Get Help.
About MME group
MME group is a leading ISO 13485 certified custom plastic injection molding company offering end to end integrated manufacturing solutions for simple to complex individual components and electro mechanical assemblies of small to medium-sized parts. Our services include: Full product development, injection mold tooling design,in-house tool construction, production molding, electro-mechanical assembly, program management, supply chain and inventory management.
With some of the fastest turnaround times for contract manufacturing companies in the United States, MME group's speed to market is unmatched providing you with a competitive advantage on low cost manufacturing.
The MME group uses the latest technologies, quality processes, and skilled professionals. We're always striving to find the best solutions to fit your needs.
Make us your contract-manufacturing partner for short lead-times, highest quality and cost competitiveness. Find us at mmegroupinc.com.