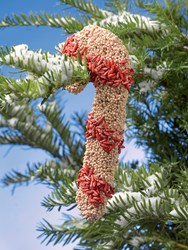 Milwaukee, WI (PRWEB) November 21, 2013
This season consider adding a little holiday sparkle outdoors. No matter the weather outside, a few decorative touches can greatly increase the beauty and enjoyment of the winter landscape, says Melinda Myers, gardening expert and author of The Midwest Gardener's Handbook.
Myers suggests trying one, two or all eight of these tips to improve a landscape's winter appeal.
Add some solar powered accents. Light a pathway, a favorite tree or front porch without installing additional outlets. Look for unique colors and shapes like the solar star lantern or the changing colors of northern lights spheres for added appeal. The wide variety now available can help create a memorable winter display. Be sure to select solar accents that provide hours of enjoyment when fully charged.
Create an outdoor holiday tree for guests and feathered visitors to enjoy. Decorate a few evergreen trees and shrubs with purchased or homemade birdseed ornaments. Holiday shapes made of energy rich birdseed and suet give the trees a holiday flare, while providing important food for birds to enjoy. These also make great gifts for gardeners or bird watchers.
Light up winter containers. Fill a weather-proof planter with potting mix or play sand. Purchase greens from a garden center or trim a few from the landscape. Stick the cut end of the greens in the potting mix or sand to create an attractive display. Add some colorful berries, decorative twigs and ribbon. Then add some height and light to the winter container with fiber optic solar lights. Place the container by the front steps for holiday visitors to enjoy day or night.
Increase color and motion with the help of heated birdbaths. Attract greater numbers and variety of birds by providing water year round. Northern gardeners should consider heated birdbaths to insure water is available even during the coldest months. Further help the birds by adding a few stones or branches to the birdbath. This allows the birds to drink without getting wet; helping them to preserve their body heat.
Create homemade outdoor lights. Line pathways, accent plantings or dress up fence posts with ice globe luminaries. It's easy to make them or purchase ready to make kits. Use colorful outdoor LED lights or tea candles to light up blocks or spheres of ice. Creating these memorable nighttime accents makes for a great family activity.
Add some livable art. Hang a few colorful and unique birdhouses in the backyard. They provide color and whimsy to the winter garden and will be ready for feathered friends to move in next spring.
Include a "gingerbread" house for the birds. Hang a decorative birdseed house from a shepherds crook or tree branch. Be sure to place it in an area where both guests and the birds can enjoy the decorative treat. Look for a sheltered, but open area where the birds can watch for predators while enjoying their winter feast.
Move holiday trees outdoors. Place cut trees in a snow bank, vacant spot in the garden or make them part of a bird feeding station. The trees provide some extra greenery in the often drab winter landscape as well as shelter for the visiting birds. Then consider adding a few of those birdseed ornaments for added food and winter decoration.
Gardening expert, TV/radio host, author & columnist Melinda Myers has more than 30 years of horticulture experience and has written over 20 gardening books, including Can't Miss Small Space Gardening and The Midwest Gardener's Handbook. She hosts The Great Courses "How to Grow Anything" DVD series and the nationally syndicated Melinda's Garden Moment segments. Myers is also a columnist and contributing editor for Birds & Blooms magazine. Myers' web site, http://www.melindamyers.com, offers gardening videos and tips.