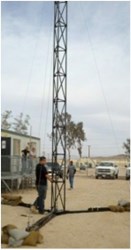 We are excited to incorporate the Tactical Tower into the 2014 GSA to ensure streamlined procurement by future operators.
Los Angeles, CA (PRWEB) November 21, 2013
Worldwide Aeros Corp. (Aeros) an innovative, FAA-certified LTA manufacturer, has designed, manufactured, and is in the process of incorporating a new solution for rapid situational awareness and mobility into the 2014 General Services Administration Catalog.
This updated version of Aeros Tactical Tower, originally released in July 2013, integrates a system that allows a single operator to quickly establish a surveillance zone for events, emergencies, and security applications within 20 minutes of arriving on any scene. Aeros tactical tower system is ultra-lightweight and features an impressive 75 lb payload, as well as a minimized ground footprint and up to 75 foot adjustable height to support a variety of missions in high wind scenarios.
Aeros Tactical Tower permits the system to be used for short-term or sustaining communications and observation applications whether employed by local law enforcement agencies, in homeland security applications, or while supporting deployed troops and embassy personnel. The tower system's total transport volume is minimal, and conveniently shipped in a pelican-type case.
Not only does the tower have a quick assembly time and easy-to-use operating system, it is also equipped with a lightweight EO/IR camera with r/f pan tilt zoom control—making it an essential tool for those in law enforcement agencies, homeland security, or a variety of military operators.
"The Tactical Tower is a simple, yet efficient tool for a single soldier or operator to assemble quickly and without tools," says Mario Pantuso, Sr. Military Product Manager at Aeros, adding, "We are excited to incorporate the Tactical Tower into the 2014 GSA to ensure streamlined procurement by future operators."
The lightweight portable tower system is manufactured from a hybrid composite truss and designed to address harsh environmental conditions while supporting significant payloads atop a universal payload mounting plate. Interestingly, the truss structure for the communications or surveillance-enabling tower was conceived during the development of the Aeroscraft, a new advanced rigid structured airship being developed by Aeros' engineers to transport heavy and oversized project cargos directly from manufacturing facilities to remote destinations. Engineers realized the truss system developed to help support cargo payloads and maintain the dirigible-like vehicle's structure was sufficiently lightweight, durable and stable to represent a major advancement in the category of man-portable surveillance systems. The team then quickly leveraged this discovery to support modern missions with a manpower efficient solution that truly offers users flexibility and confidence in virtually any scenario.
Aeros has produced and recently released a short video demonstrating the unique way to quickly deploy the tower with minimal personnel. The short video displays step-by-step the quick attachment points for rapid deployment of the tower, by a single operator, without the need for accompanying vehicles or equipment. To watch a tutorial of the Aeros Tower set-up or to inquire about purchasing, please visit http://www.aeroscraft.com/tower, or email Mario Pantuso at mario(dot)pantuso(at)aeroscraft(dot)com