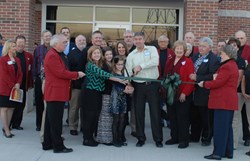 Holts Summit, Missouri (PRWEB) November 21, 2013
One of the nation's fastest growing companies just got a little bigger, in sales as well as space. Pro Food Systems, Inc. (PFS), parent company of Champs Chicken, held the grand opening of its new corporate headquarters and distribution center with a reception and ribbon-cutting ceremony on Tuesday.
The 65,000 square foot building promises to offer more streamlined operations for its clients and practical space for staff. It consolidates 3 distribution operations under one roof and offers 10 times the capacity as the former facility. This state-of-the-art development also boasts larger storage areas, 18,000+ square feet of new office space, a demonstration kitchen, and workout room.
The bigger facility offers the thriving company much needed room to grow. In order to serve its 520 Champs Chicken locations nationwide, PFS has increased its workforce by 40% in the last 12 months. Since 2008, the company has more than tripled in staff size, adding personnel to key areas such as IT, accounting and marketing.
During the ceremony, PFS CEO Shawn Burcham addressed a crowd that included city and state officials, partners, backers and employees.
"I do my best to surround myself with good people who share common values and beliefs," Burcham said. "I have the pleasure to work every day with people who have the same goals and enjoy being around one another."
Missouri State Rep. Jeanie Riddle described Burcham's success as the American dream. "It's not without hard work, tenacity and many hands that you could accomplish what you have," Riddle said. "I'm grateful for Shawn and the tenacity he had to continue to fight this fight."
City Administrator Brian Crane, on behalf of Mayor Lucas Fitzpatrick, gave PFS one more thing to celebrate: declaring November 19 as Champs Chicken Day. To honor the occasion, guests enjoyed a full menu line-up of Champs Chicken favorites such as tenders, wings and fish.
ABOUT PRO FOOD SYSTEMS
Pro Food Systems, Inc., parent company of Champs Chicken, specializes in quality hot food products, foodservice equipment and complete deli operations. With over 520 locations in 29 states, the company has been ranked by Inc. Magazine as one of the "Fastest Growing Privately Owned Companies in the U.S." for the last 5 years.