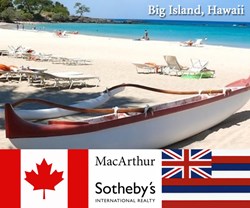 Canadians are the number one foreign investor in Big Island property. Who wouldn't want to trade those cold harsh winters for sunny beaches and gentle trade winds? – Dodie MacArthur, CEO MacArthur Sotheby's International Realty
Kamuela, Hawaii (PRWEB) November 23, 2013
Canadians are the number one group of foreign investors in Big Island real estate according to Title Guarantee Hawaii. They spend more than double than the next three countries of foreign buyers combined.
Foreign Property Buyers of Big Island Real Estate
January to July 2013*
1. Canada | $47,513,891
2. Japan | $16, 052,599
3. Australia | $3,804,000
4. Germany | $280,800
*Statistics provided by Title Guaranty. Information deemed reliable but not guaranteed.
This information is backed up by MacArthur Sotheby's International Realty who count the Canadian market as a strong factor in the rise of resort home sales along the popular Kohala coastline, and condo and single-family residence sales in the bustling and beautiful port city of Kailua-Kona.
"2012 to 2013 here on the Big Island saw our first year of substantial growth in both sales and housing prices since the crash of 2008," said Dodie MacArthur, CEO and Owner of MacArthur Sotheby's International Realty. "Low interest rates, a record-breaking Stock Market and improvements in the general world-wide economy brought the foreign buyers back to the Big Island, and our Canadian friends are a big part of that recovery."
Of course, trading those harsh, windy winters for warm, sunny beaches is why so many dream of a home in Hawaii, but why the Canadians in particular? The staff at MacArthur Sotheby's International Realty pondered this question and came up with a few fun and far-fetched 'facts' to explain this trans-oceanic love connection.
•Canadians love gravy on their French fries. Big Islanders love gravy on their rice… and their spam… and their hamburger steaks!
•Canadians put maple syrup on fresh snow. Big Islanders put maple syrup (and anything sweet) on their fresh snow – Shave Ice!
•A Dutchie with coffee at Tim Horton's is as much a family tradition as a Malasada and coffee at Tex's Drive Inn.
•Every Canadian grandmother has her secret recipe for moose meat. Every Kama'Aina (of the land) grandmother has her secret recipe for kalua pig.
•Canadians will Trick or Treat in a blizzard. Big Islanders will load up snow from the top of Mauna Kea for a snowball fight on the beach.
•Hockey Night in Canada is as sacred as 'Surf's Up' on the Big Island.
•Everyone has a pair of snow boots. Everyone has a pair of rubber slippers.
•A flannel shirt for each day of the week proudly proclaims, "Born Canadian". A tank top for each day of the week proudly says, "From Big Island".
•The love of fresh fish, both catching and eating.
•Going to a party? Bring a 2-4, eh. Going to a party? Bring one case Steinlager, brah.
•Zipping across the water is etched in both genetic codes whether it be ice skating or riding the waves.
•There's always time to "Just take it easy, man" or to "Hang loose, brah".
•Canadians are the nicest people on the face of the earth and so those from the Big Island of Hawaii.
So Aloha, eh?
MacArthur Sotheby's International Realty is a boutique Hawaii real estate company offering the best in customer service with the Sotheby's global marketing reach of over 600 offices in 46 countries. MacArthur serves the Big Island with offices on the Kohala Coast at Kings' Shops (808) 633-8646, in Kailua Kona at the Keauhou Shopping Center at (808) 331-3131, and in Waimea at Parker Ranch Square at (808) 885-8885. It's also the exclusive sponsor and administrator of the popular 'Big Island – Hawaii' Facebook page, showcasing the Big Island lifestyle and adding another 64,000 members to the MacArthur global audience.