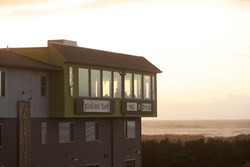 Choosing to inhabit the far reaches of this continent brings with it inherent striving for sustainability for many of us who call it home.
Long Beach Peninsula, Wash. (PRWEB) November 26, 2013
Adrift Hotel is taking more big steps in sustainability with its current $48K project to add solar hot water panels and rainwater catchment for laundry. The recent announcement was made jointly by Brady and Tiffany Turner, owners of the 80-room hotel, located at the south end of the boardwalk and near by Discovery Trail on Washington's Long Beach Peninsula.
The project, with construction taking place from October through December 2013, is being funded utilizing Seattle-based Community Sourced Capital – providers of new financial tools to help local businesses access capital namely via community-sourced small business loans.
"Choosing to inhabit the far reaches of this continent brings with it inherent striving for sustainability for many of us who call it home," said Tiffany Turner, co-owner, Adrift Hotel. "With the support of our community investors, Brady and I are fortunate to be the first Long Beach Peninsula hotel to move toward renewable-resource reliance."
Consistent with their vision, the project includes installation of six solar hot water panels on the south side of both buildings. A temperature regulator will also be installed to ensure consistent hot water for guest room showers and baths of this contemporary, reclaimed hotel. Contractor for the project is Seattle-based A & R Solar with work completed by the company's co-founders, Dave Kozin and Andy Yatteau.
Complementing the solar hot water, one 2.5 thousand-gallon holding tank will be installed for rainwater catchment. The gathered water will initially be used for laundry with future plans to use it to flush guestroom toilets. Brady Turner, hotel co-owner, will oversee the project.
"We are by no means the only residents who act with conservation and community resilience in mind," added Turner, a cranberry farmer's daughter. "We want to do now what's best for the future as we live a little dream in our corner of the world."
Reclaimed lodging is not new to the Peninsula. David Campiche and Laurie Anderson undertook a major refurbishment of The Shelburne Inn -- the oldest continuously operating inn in Washington, in 1977, and subsequently rescued a spectacular riverfront property called China Beach Retreat in 1998. Boreas Inn is another reclaimed property, as are Charles Nelson Guest and others.
"By reclaiming and refurbishing these unique properties, we not only maintain the authentic and understated charm that our area is known and appreciated for, but we also protect and preserve resources that we have as a proud legacy for our communities," said Andi Day, executive director, Long Beach Peninsula Visitors Bureau. "We are a community with heart, soul and a long-term commitment to sustainability."
About Adrift Hotel
Adrift Hotel is a hip reclamation of the former Edgewater Hotel – a property ripe for renovation. The couple completely gutted the former structure, stripping down to exposed pipes and conduit, pouring concrete floors, utilizing recycled materials such as cranberry crates for night stands and vanity shelving, and choosing other durable features such as galvanized-steel bathroom sink counters, refurbishing what might be salvaged, and more. Sustainability is constant goal carried through in such ways as full-size bath amenities, in-room recycling, earth friendly cleaning and laundering supplies, complimentary guest bikes, and more. The hotel's restaurant, Pickled Fish, invests in local farms through the purchase of restaurant CSAs and a focus on offering local foods.
About the Long Beach Peninsula
A two-plus hour drive from Portland and three and one half hours from Seattle, the Long Beach Peninsula is a longtime favorite for those seeking easy access to wild spaces, great seafood, lively festivals, and affordable creature comforts. Famous for oysters and cranberries, the 28-mile long finger of land boasts a wealth of talented chefs, a growing number of specialty farms, and is a showcase for Northwest cuisine. For details, please access http://www.funbeach.com or call the Long Beach Peninsula Visitors Bureau at 800.451.2542.