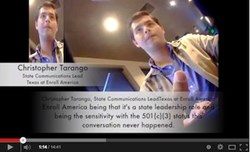 New York, NY (PRWEB) November 20, 2013
Today, Project Veritas released a breaking new video showing an Enroll America Communications Director, a Sibelius-linked group dedicated to signing people up for Obamacare, conspiring to release private data to help a political action committee.
Click here to watch the video.
Sebelius' relationship with Enroll America is under investigation by a government ethics audit and Cause of Action has questioned Enroll America's tax-exempt status, asking the attorney general of Texas to further investigate this matter.
This is the third video in an investigative series into Obamacare fraud. The first two videos exposed Obamacare navigators counseling applicants to lie and cheat the health care system by erroneously reporting income status and health history.
The full, raw video plays immediately following the exposé. For additional questions or to interview James O'Keefe, please contact Jennifer Ridgley at (914) 708- 6099 or at Jennifer(at)ProjectVeritas(dot)com.