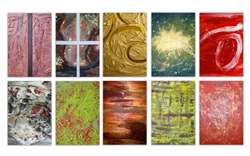 Layers intrigue the mind by giving different effects which are extremely reflective in the light. – Bethany Londyn
Portland, OR (PRWEB) November 21, 2013
Bethany Londyn's art is her own translation of the reality that surrounds her. She has been an artist for over a decade and is now re-launching her Be'sCreations portfolio at bescreations.com. Londyn uses various mediums to create immense depth and texture in her beautiful paintings that wow the eye of the beholder.
Be'sCreations was developed after Londyn saw the tremendous amount of attention that her paintings were drawing from the people surrounding her. Painting her first piece, a sun, was the start of Londyn's journey into the art world. She did not imagine where that initial paint to canvas act would take her. Londyn also paints commissioned pieces as her clientele and visibility has broadened. Each time she creates a piece now, she finds joy and experiences a sense of peace, serenity, and connection.
Londyn's paintings have evolved to various sizes involving an abundance of different mediums. Londyn grasps onto everyday mediums and runs with them. She has worked with gravel, tissue paper, and plastic wrap; basically whatever is at her fingertips. No one color is typical in Londyn's pieces. Her collection showcases the magnitude of creativity that she possesses. The stunning spectrum of paintings that Londyn creates originate from what inspires her: A tree she discovered on a walk, the sun shining on that day, or leaves resting in a pool of water. The world is art, and she captures its essence.
Clients love the masterpieces they have of Londyn's, and rave about them to their friends, family, and colleagues alike. Her artwork is hung up in Chicago, San Francisco, Portland and many other cities. Now Be'sCreations is looking to expand and seek representation so that Londyn can continue to share her gift of art with others.