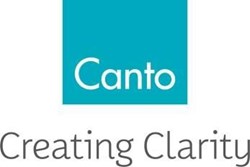 This webinar is a great opportunity for organizations looking to build a case for DAM or current DAM users to learn industry best practices and strategies for maximizing DAM success.
San Francisco, CA (PRWEB) November 21, 2013
Canto, a leading provider of digital asset management (DAM) software and services, today announced it will host a live panel discussion webinar with research firm, Gleanster Research.
On Wednesday, December 4th at 10AM PT Canto and Gleanster will partner with Lippincott and XO Group to hold a live panel webinar where they will discuss secrets to their own DAM success. Gleanster will provide insight to the decisions and improvements top performers have made with their DAM environments that have helped make their organizations successful.
Webinar participants will receive an advanced copy of the Gleanster Deep Dive research report, "Future-Proof Your Investments in DAM". The study explores how top performing organizations maximize their return on DAM technology.
The report reveals three secrets to top performing organizations success; Workflow, Collaboration and Customization.
"Top Performers have been successful with their DAM because they take the implementation to the next level. They look at the implementation holistically, tailor the technology to their audience and make incremental steps to improve the DAM technology over time." commented Ian Michiels, Principal Analyst & CEO of Gleanster Research. Michiels continued, "This webinar is a great opportunity for organizations looking to build a case for DAM or current DAM users to learn industry best practices and strategies for maximizing DAM success."
According to Gleanster's Deep Dive, Future-Proof Your Investments in DAM, 65% of top performers use digital asset management for workflow approval processes. In the webinar, XO Group will share how digital asset management has improved their workflow. Lippincott will share their successes using Cumulus– Canto's digital asset management system – to improve collaboration across the organization.
Webinar Details
Wednesday, December 4th, 2013
10:00 AM PT / 1:00 PM ET
Register here and get a free copy of the Gleanster Research report
About Gleanster
Gleanster is a new breed of market research and advisory services firm. Its benchmark research and Deep Dive analyst reports highlight the experiences of top performing organizations; why they invest in technology, how they overcome challenges, and how they maximize the value of their investments. For more information, visit gleanster.com.
About Lippincott
Lippincott is a leading brand strategy and design firm with a 70-year heritage crafting authentic stories, memorable experiences and winning strategies for the world's most iconic brands. Its expertise spans all aspects of brand building including strategy, identity design, experience innovation and activation. The firm uniquely combines business-based strategic thinking and creative excellence to solve complex challenges facing corporations today as they shape their brands for the future. For more information, visit lippincott.com.
About XO Group Inc.
XO Group Inc. (xogroupinc.com), is a global media and technology leader devoted to weddings, pregnancy and everything in between, providing young women with the trusted information, products and advice they need to guide them through the most transformative events of their lives. Our family of premium brands began with the #1 wedding brand, The Knot, and has grown to include WeddingChannel.com, The Nest, The Bump, and Ijie.com. XO Group is recognized by the industry for being innovative in all media – from the web to social media and mobile, magazines and books, and video – and our groundbreaking social platforms have ignited passionate communities across the world. XO Group has leveraged its customer loyalty into successful businesses in online sponsorship and advertising, registry services, ecommerce and publishing. The company is headquartered in New York City. Follow XO Group on Twitter @xogroupinc or visit XOgroupinc.com.
About Canto
Canto is driven by delivering digital content more intelligently. This has made the company a global leader in the digital asset management community. By always putting the focus on its users, Canto delivers scalable software and services that match customer demands. More than one million users from a wide spectrum of market segments have trusted Canto's expertise since the company's founding in 1990. Canto is based in San Francisco (USA), Berlin and Linden (Germany) and serves a worldwide customer base in close cooperation with its worldwide partner network. For more information, visit canto.com
Media Contact
Leslie Weller
info(at)canto(dot)com
Follow Canto on Twitter @Canto