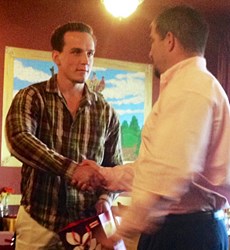 Patrick's one year sobriety chip, is the best thing anyone has ever given me.
Flagstaff, Arizona (PRWEB) November 22, 2013
Families and friends gathered last weekend to celebrate the graduation of two Back2Basics residents. Zach, 20 and James, 23 have each struggled with drugs and alcohol since the age of 13.
"What I've learned at Back2Basics is something I will use every day of my life," Zach said. "Getting sober was the hardest thing I've ever gone through, which makes graduating that much more rewarding."
As Roy DuPrez, CEO and founder of B2B got up to address the 30 plus people in attendance at the luncheon, he called on the graduates to share about their experience the past six months in recovery.
"Thinking about where I am today, I never saw myself here," James said. "I couldn't look that far into the future, because I didn't have a future."
Today, James has enrolled in Beyond the Basics – a post-transition extension of the six-month Back2Basics program – as a Residential Intern. He plans to go back to school, and get a job in the recovery-related field. "I understand what these guys [addicts] are going through, and I want to help them, just like Back2Basics helped me."
Most recent Beyond the Basics graduate, Patrick and his family also celebrated. "I've been given a lot of nice things throughout my life," Patrick's father said "but this, Patrick's one year sobriety chip, is the best thing anyone has ever given me."
The next Back2Basics graduation is set to take place in January 2014, where four more residents plan to continue on to Beyond the Basics.