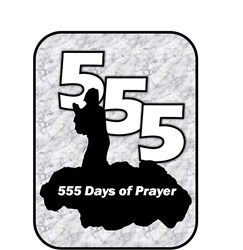 Far too many Christian brother and sisters use Lord Jesus as though He were a deified "get out of jail free card."
Martinez, California (PRWEB) November 21, 2013
http://www.saveamericagathering.com
As the prayer warriors of "555 Days of Prayer to Save America" pray intercessory prayers for the sins of he United States of America, the prayer event's planners, from "Save America Gathering," and "One Church // One Voice" are hoping that the 555-day-long prayer helps to focus their lives on prayer.
Said Robert Berry, spokesman for "555 Days of Prayer to Save America" and CEO of "Save America Gathering," "Prayer takes one deeper. A person has to deepen their relationship with God, Almighty, if they are humbling themselves, and going before The Father, in prayer." Berry is also the author of the Christian historical family story book, "Ephus and the Praying Bushel."
Berry continued, passionately, referencing the scriptures in which Jesus differentiated between false and true disciples. "In Matthew 7:21-23 (NIV), Jesus discusses false and true disciples. Not everyone who says to me, 'Lord, Lord,' will enter the kingdom of heaven, but only the one who does the will of my Father who is in heaven. Many will say to me on that day, 'Lord, Lord, did we not prophesy in your name and in your name drive out demons and in your name perform many miracles?' Then I will tell them plainly, 'I never knew you. Away from me, you evildoers!'" I shudder, and say, as someone saved from the very pit, by the power of Jesus, 'No one wants to end up being told Away from me, by Jesus! Therefore, one must ensure that one cultivates an ever deepening relationship with God, and that is achievable through a life of prayer."
"Unfortunately," Berry went on, "Far too many Christian brothers and sisters use Lord Jesus as though He were a deified 'get out of jail free card.' Jesus, Himself, speaks of this, multiple times, in scripture, when He instructs others to 'Go, and sin no more.'" At John 8:9-11(NIV), the scripture says: "At this, those who heard began to go away one at a time, the older ones first, until only Jesus was left, with the woman still standing there. Jesus straightened up and asked her, "Woman, where are they? Has no one condemned you?" "No one, sir," she said. "Then neither do I condemn you," Jesus declared. "Go now and leave your life of sin." At John 5:14, (NIV), it reads: "Later Jesus found him at the temple and said to him, "See, you are well again. Stop sinning or something worse may happen to you."
Berry concluded by saying, "Jesus said Christians need to be about the business of His Father's Kingdom. If one is about the business of the Kingdom of God, one does not seek sin, for sin is not of the Kingdom, but of mankind's weakness, and, the prodding of Satan. A dedicated and consistent prayer life reinforces brothers' and sisters' strengths, so they may resist sin more effectively, as time passes. They may still have to fight, but, they can win the fight, through a strong prayer life, and the "Armour of God". Look at Ephesians 6:10-18 (KJV), "Finally, my brethren, be strong in the Lord, and in the power of his might. Put on the whole armour of God, that ye may be able to stand against the wiles of the devil. For we wrestle not against flesh and blood, but against principalities, against powers, against the rulers of the darkness of this world, against spiritual wickedness in high places. Wherefore take unto you the whole armour of God, that ye may be able to withstand in the evil day, and having done all, to stand. Stand therefore, having your loins girt about with truth, and having on the breastplate of righteousness; And your feet shod with the preparation of the gospel of peace; Above all, taking the shield of faith, wherewith ye shall be able to quench all the fiery darts of the wicked. And take the helmet of salvation, and the sword of the Spirit, which is the word of God: Praying always with all prayer and supplication in the Spirit, and watching thereunto with all perseverance and supplication for all."
"555 Days of Prayer to Save America" will conclude on September 11, 2014, with "The Great Wave Offering."
'Like' "555 Days of Prayer to Save America" on Facebook.
Donate to "Save America Gathering" via PayPal, at saveamericagathering(dot)org(at)gmail(dot)com.