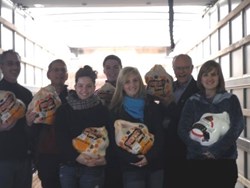 These Turkeys are a real treat for families in need. They are the same turkeys that will grace the table of the White House this Thanksgiving. - Jill Laufenberg, Cityteam Philadelphia
Philadelphia, PA (PRWEB) November 21, 2013
This Thanksgiving Season, Cityteam Philadelphia, a non-profit organization serving low-income families and the homeless throughout the greater Delaware Valley was in need of turkeys to put together with their food boxes and feed on Thanksgiving day. The organization, Tons of Turkeys came to the rescue of Cityteam with a donate 1,500 of turkeys to help local families.
Richard (Rick) Warther, the founder of Tons of Turkeys meet with Cityteam regarding their critical need for turkeys this year and how so many families had registered for a food box. He heard first hand how these families struggle each day to feed their children and how they freely receive vital services from Cityteam. Rick saw that Tons of Turkeys could make a real difference this holiday by helping these families with 1,500 turkeys. 1,000 of the turkeys will go to Cityteam, while 500 turkeys will be delivered to Chester County Food Bank.
PHOTO/VIDEO Meet the Warther Family from Tons of Turkey as they unload 1,500 turkeys from Jaindl Farms truck in the city of Chester for Cityteam.
DATE & TIME: Friday, November 22nd- 9 AM – 10 AM
LOCATION: Cityteam Warehouse at 805A West 2nd Street (PA-291), Chester, PA
Cross Streets: West 2nd St. & Ulrich St.)
As the Warther family sat down for dinner four years ago, they tried to imagine what it would be like without a turkey as the centerpiece of their Thanksgiving celebration just days away. The next day, Richard Warther, his wife Francie and daughters Katie and Natalie decided to make a difference that holiday season.
"I'm a bit of an impulsive person and people will tell you if I get my head around an idea I like to carry it out," Warther said. "Our family has been very blessed, and we've realized the best way to show how truly thankful we are is to share the spirit of Thanksgiving with other families who are in need," Warther said. Without much time, Warther piled his daughters into a rented U-Haul truck and headed north to collect the 100 turkeys they purchased.
Since then, Warther and his family formed Tons of Turkeys, a non-profit whose mission is to deliver Thanksgiving turkeys to families in need throughout the Philadelphia area. They made the switch to donating their turkeys to Cityteam last year when they discovered that individuals served do not have to pay to receive their Thanksgiving food box.
One of the best parts of this story is the quality of the Turkey's donated. They aren't discounted, or whole sale; the turkeys are purchased from Jaindl Farms of Orefield. This is the farm that for the past 40 years has provided the White House (http://www.whitehouse.gov) with their holiday turkeys every year (yes, even the pardoned ones). The fully integrated turkey farm, owned and operated for five generations and 75 years in the Lehigh Valley of Pennsylvania, provide delivery for the turkeys directly to Chester. Those being served at Cityteam love to hear that they are getting a Turkey from the same place as the White House!
About the Organizations:
Tons of Turkeys is a 501(c)(3) organization founded by the Warther Family in 2009. Its mission is to deliver Thanksgiving turkeys to families in need throughout the Philadelphia area. Tons of Turkeys is located at 1655 East Boot Road, West Chester, PA 19380 – 610-304-777 or http://www.tonsofturkeys.org.
Jaindl Farms is a fully integrated turkey farm owned and operated for five generations and 75 years in the Lehigh Valley of Pennsylvania. Jaindl Farms takes pride in supply their customers with outstanding premium turkeys. Over the years, Jaindl Farms has won numerous awards for their turkeys that now proudly carry the "Grand Champion" brand label. Jaindl Farms retail store is located at 3150 Coffeetown Road, Orefield, PA 18069 - 610-395-3333 or http://www.jaindl.com.
Cityteam is a non-profit organization helping the low-income and homeless population by providing hot meals, emergency food boxes, safe shelter, showers, clean clothing, counseling, case-management, education, computer training, career enhancement, long-term recovery program and a mother and baby program serving over 500 mothers and 2,000 children with diapers, formula and other essential care. http://www.cityteam.org/philadelphia.
ADDITIONAL THANKSGIVING EVENTS:
1) This Saturday, November 23rd, Cityteam will deliver Thanksgiving food boxes and turkeys to pre-registered families and seniors at their homes. Hundreds of volunteers will arrive at Cityteam – 634 Sproul Street, Chester, PA at 9AM – 2 PM.
2) WMGK – John DeBella 12th Annual Turkey Drive – Tuesday, November 26, 2013 – LOVE PARK – 6 am – 9 am. John DeBella's races towards his goal of 10,000 turkeys in 3 short hours.
3) Traditional Thanksgiving Dinner for people in need – Thursday, November 28th, 12 Noon – 2 PM. Volunteers help cook and serve starting at 8 AM. 634 Sproul Street, Chester, PA
Cityteam Chester (main location) – 634 Sproul Street, Chester, PA 19013 – 610-872-6865 – http://www.cityteam.org/philadelphia
Jill Laufenberg
Cityteam Philadelphia
610-291-2268
jlaufenberg(at)cityteam(dot)org