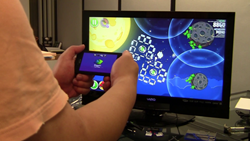 It's like turning a TV into a giant tablet.
(PRWEB) November 21, 2013
What is BiggiFi? It's the revolutionary new technology that will bridge the gap between mobile and television.
While BiggiFi may seem like a mirroring technology like AirPlay, its approach is fundamentally different. BiggiFi is an HDMI device that turns a smartphone into a smart controller so one can run apps on the big screen just as they would on their smartphone. There isn't a need for traditional remotes and there isn't some sort of custom control scheme that requires mapping. This allows one to run millions of mobile apps on their TV. It's like turning a TV into a giant tablet. On top of this, BiggiFi boasts a unique multi-user framework and SDK so that multiplayer apps including split-screen games can be made.
The BiggiFi team has worked on this project for 2 years and is finally preparing for launch. They are currently running an Indiegogo campaign and have met their initial funding goal. It is their hope, however, to go above and beyond and bring this amazing product to a wide audience and offer some additional colors for the device too.
BiggiFi is currently up for pre-order on Indiegogo for $69 (shipping included) for a single unit. This will go up to $89 MSRP after the campaign. Visitors are invited to ask questions, share the page, and leave a comment.
Their page can be found at http://igg.me/at/biggifi/x/5231403.
Come and join the BiggiFi revolution!