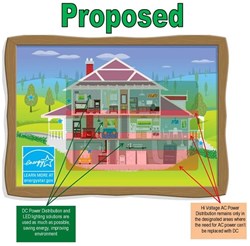 It is an open-minded, comprehensive engineering approach to solving one of the most critical issues facing our society today and reaching the target objectives.
San Diego, CA (PRWEB) November 21, 2013
ADVS-technologies is pleased to submit a Proposal, listing the company's patented and patent pending technologies, which can make the California Energy Commission Building a beacon of the green initiative.
"What truly sets ADVS-technologies apart from the competition," says Zack Braunstein, president of the company, "is the fact that the proposal is based on engineering knowledge, documented under patented and patent-pending applications, and on-going engineering designs in progress."
"It is an open-minded, comprehensive engineering approach to solving one of the most critical issues facing our society today," continues Braunstein, "to reach target objectives, without being under pressure from selling existing inventory of products, and without the necessity to manage significant company overhead."
For several years LEDs have been clearly accepted as superior light producing devices versus existing incandescent and fluorescent illumination technologies. The advantages of LEDs include superior efficiency and longevity.
Currently, the trend of converting to LED lighting is primarily based on replacing existing light bulbs with LED based products, so that the LED products will fit into the originally installed AC powered light bulb sockets. For new construction, the choices are not much better.
"The upcoming ParallelView™ LED MagicLight™ series of products in combination with DC Plug-n-Power™ patented technology", according to Braunstein, "will provide the most comprehensive, energy efficient and environmentally friendly general lighting solutions in the world."
For the first time, a pre-fabricated kit, containing AC/DC Plug-n-Power™ distribution components and Plug-n-Power™ LED MagicLight™ general lighting products, can be designed according to a layout of a residential or commercial building. Factory tested kit, with all components in compliance to NEC and local agency requirements, will be delivered directly to the installation site. From that point on, it will take hours to install, test and inspect the kit to ensure its full compliance.
"The bottom line," concludes Braunstein, "the patented Plug-n-Power™ distribution technologies with patent-pending ParallelView™ LED MagicLight™, delivers the ultimate in saving energy and beautifying the illumination applications using modern LED lighting devices."
Please visit ADVS-technologies latest: NEWS, BLOGS, WHITE-PAPERS.
About ADVS-technologies:
ADVS-technologies is a young and ambitious company specializing in the development of innovative proprietary technologies with an extensive portfolio of patented technology in the areas of illumination systems, power distribution systems, pharmacy, store automation, and transport systems. The objective of ADVS-technologies is to provide effective and efficient environmentally friendly solutions with the intent of improving quality of services.
For more information, please visit http://www.advs-technologies.com.