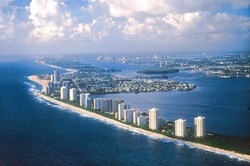 West Palm Beach is a tropical oasis as well as a bustling mecca – this combination is rare and unmatched.
West Palm Beach, FL (PRWEB) November 20, 2013
ArtPalmBeach celebrates its 17th anniversary at the Palm Beach County Convention Center in West Palm Beach from January 24-27, 2014 with a preview on the evening of January 23. Both art critics and art enthusiasts deem ArtPalmBeach as one of the most influential contemporary art fairs on Florida's Gold Coast. Over 80 international galleries will be exhibiting contemporary works by both established and emerging artists.
The 2014 edition of ArtPalmBeach will feature Art Synergy, a historic gallery walk taking place throughout all of Palm Beach County from Friday January 24 through Monday January 27. The weekend of events will include gallery receptions, open artist studios, performances, museum openings and lectures, and several architectural tours, through six historic art districts in the county.
The six areas of exhibition for ArtSynergy will be ARTal'FRESCO in Boynton Beach, ART POP in Lake Worth, Continuum in West Palm Beach, ArtX in Historic Northwood Village, South Dixie Antique Row and Worth Avenue. The focus for ArtSynergy is to promote contemporary galleries, budding artists, established area museums, non-profit art centers, university galleries and a number of international artists who feature their works in these historic art districts.
Another feature and special focus of the 17th edition of ArtPalmBeach will be the result of a partnership forged with the International Sculpture Center in Washington D.C. and Sculpture magazine. The art fair will feature sculptures by known artists in mediums including metal, glass, porcelain, light and carbon.
West Palm Beach is a growing melting pot of culture and arts-based events, drawing international attention. Visiting and discovering West Palm Beach or any of the surrounding areas, often transforms into falling in love with South Florida and making West Palm Beach home. It is a tropical oasis as well as a bustling mecca – this combination is rare and unmatched.
The effect of the allure to West Palm Beach real estate is evident. Even after the tough hits to real estate market in the last several years, this particular area is one of the cities to bounce back the quickest.
Distinct Estates sells West Palm Beach homes as well as Tequesta, Palm Beach Gardens, and Hypoluxo homes and other highly-desirable areas all over Florida. Distinct Estates represents both buyers and sellers who are in search of their Florida dream home. The reputable Florida real estate agency is composed of highly experienced realtors who have received many accolades for their level of professionalism and results.