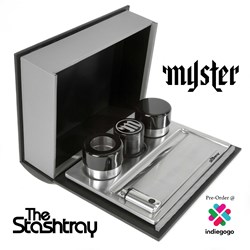 It's not just about a product; it's about a movement.
Washington, DC (PRWEB) November 26, 2013
On November 19th Stashtray went live on Indiegogo for a $42,000 crowd funding campaign which positions Myster as one of the most innovative new players in the accessories space. Instead of enthusiasts having a messy and disjointed system containing multiple pieces to enjoy their hobby, they now have the option of an all-in-one one discreet package.
In 2002, Davis Kiyonaga was facing up to 10 years in a federal penitentiary for conspiracy to smuggle 100 lbs of marijuana from Canada into the United States. Today, Kiyonaga is the CEO and creative director of Myster, Inc, a company dedicated to continuing the movement to change laws and bring the use of cannibus from a black market business to the fastest growing in the country.
Kiyonaga said, "I really think that all my struggles in the past with the legal system gave me the courage to travel a different path and genuinely try to make a difference in this industry. I hope that our customers see that by supporting Myster and the Stashtray that they are not just purchasing a product but helping to advance a long-overdue movement forward."
Myster was founded in 2012 and is based in Washington DC. The company is known for manufacturing the highest-end accessories for herbal connoisseurs as well as a commitment for enacting lasting change in the movement to end prohibition.