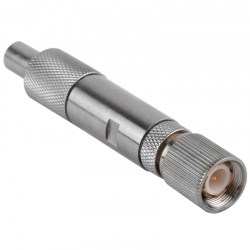 (PRWEB) November 21, 2013
Recently, RFcnn.com, a famous company providing many kinds of baluns, has announced its new range of RF baluns. Based on a senior spokesman for the company, all the new products are now available at discounted rates, up to 28% off. All clients can enjoy the special offer.
As one of the leaders in the industry, RFcnn.com works hard to provide top quality products to customers throughout the world. Its distinguished products include RF baluns, pigtail cables, RF attenuators, right angle RF connectors, G703 Mini baluns, coaxial surge protectors and so on. These items can be widely used in many fields. What's more, the company launches special offers at times.
The CEO of the company says, "We are happy to announce our new products. Anyone who places an order can get discounts. To allow worldwide customers to get more detailed product information easily, we have updated our website. All new and old clients are welcomed to explore our updated website with new online shopping capabilities."
"This is a great opportunity for those who want to buy excellent baluns online. Customers can get what they want at reasonable prices. In addition to the discounts, we also offer free shipping," he continues.
About RFcnn.com
RFcnn.com is an online shop of Zhenjiang Fourstar Electronics Co. LTD, which is a China based company that aims to provide customers with high quality products at the lowest possible prices. Customers can try the company's products through sample orders with a long-term contract. Most customers come back soon after receiving their first deals.
More details about the company's high quality connectors can be found at http://www.rfcnn.com/Mini-Balun-1-6-5-6-L9-male-straight-to-IDC-AWG24-26-RF-Connector-90.html.