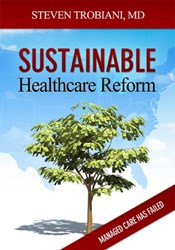 'Managing healthcare delivery costs is too labor intensive to ever be cost-effective. Instead of managing healthcare delivery, we should be managing healthcare funding.' - Steven Trobiani, M.D.
Minneapolis, MN (PRWEB) November 21, 2013
A poll conducted by The Washington Post and ABC News and published on 11/19/2013 reveals an increasingly larger segment of the American public expressing disapproval of Obamacare (1,2). In this poll:

63% disapproved of President Obama's handling of implementation of the new healthcare law.
57% oppose any federal law making changes to the healthcare system.
65% oppose the individual mandate to purchase health insurance.
71% support a delay in the individual mandate.
58% support a requirement for companies with 50 or more employees to provide healthcare for their employees.
This poll points to growing dissatisfaction with government interference in healthcare but continued strong support for our traditional system of employer-sponsored healthcare. Simply returning to our prior broken healthcare system, however, is not an option. We need an innovative, private-market solution.
Once again, it is time for the media and our political leaders to take heed of the approach to healthcare reform proposed by Steven Trobiani, M.D. This approach will:
Stabilize healthcare costs.
Preserve and strengthen employer-sponsored healthcare.
Limit employee healthcare expenses to the annual HSA contribution.
Eliminate employer healthcare costs after an initial vesting period.
Increase the net worth of companies using this plan.
Improve the quality and affordability of healthcare.
To learn more about this innovative approach to healthcare reform go to https://www.politicsandhealthcare.com and order a soft-cover copy of the book "Sustainable Healthcare Reform", also available as an e-book through Amazon.com.
Steven Trobiani, M.D. is the author of "Sustainable Healthcare Reform: Harnessing the Power of Capitalism to Fund Our Social Needs" and the founder of Politics and Healthcare, Inc., https://www.politicsandhealthcare.com. The mission of the company is to foster legislative change that will enable economically sustainable healthcare reform and minimize governmental interference. The goal is to achieve truly affordable healthcare that meets the needs of employers, workers and healthcare professionals.
1. Post-ABC News Poll November 19, 2013. http://www.washingtonpost.com/page/2010-2019/WashingtonPost/2013/11/19/National-Politics/Polling/release_274.xml
2. Jackson, David " Obama ratings fall over health care problems" USA Today, 11/19/2013.
http://www.usatoday.com/story/theoval/2013/11/19/obama-washington-post-abc-news-poll/3637381/