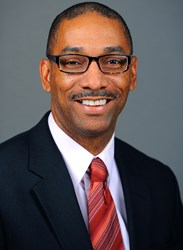 (PRWEB) November 20, 2013
The John Marshall Law School in Chicago welcomes Troy Riddle as its new director of Diversity and Outreach. Riddle comes to John Marshall from Widener University School of Law in Wilmington, Del., where he was the Multicultural Affairs Officer.
Riddle will be responsible for increasing awareness of the value of inclusion and diversity among law school students. He also will be working with the John Marshall community on understanding the importance of supporting the academic, educational and cultural interests of historically underrepresented and non-traditional students.
"This position, as I anticipated, is very similar to my previous one," Riddle said. "However, I see this as a greater challenge because John Marshall has a larger number of students, particularly diverse students. Chicago is one of those meccas that pulls all types of people together, which is really what is exciting about this city. There is an opportunity to do my job on a grander scale."
Since the law school opened in 1899, John Marshall has been committed to serving a diverse population of students, graduating its first woman in 1903, first African-American in 1904 and first Hispanic graduate in 1912.
"Because John Marshall has such an amazing reputation, I think this is a great opportunity to build upon that and do some really big things," Riddle said.
"We are very excited to have someone as experienced as Troy join our Student Affairs team," John Marshall Dean John E. Corkery said. "John Marshall believes that, for lawyers to truly benefit society, the legal profession must embody a community that celebrates its own multiplicity while remaining dedicated to the pursuit of justice and upholding the rule of law for all people everywhere."
Riddle holds both undergraduate and graduate degrees in Business Administration and a JD from Widener University School of Law. Before working at Widener, he worked in health care administration as well as for the Law School Admission Council. He is a licensed attorney in the Commonwealth of Pennsylvania.
"Legal education is a lot more interesting and a lot more rewarding than private practice and a big part of that for me is the student component," Riddle said.
"One piece of advice I would give to a student in school now is to use law school not just as an opportunity to become a lawyer, but as an opportunity to network and interact with people from other walks of life. I am in this line of work because of what I did, and the relationships that I fostered as a law student."
About The John Marshall Law School
The John Marshall Law School, founded in 1899, is an independent law school located in the heart of Chicago's legal, financial and commercial districts. Through classes, clinics and special programs, students develop the strategic, analytical and transactional lawyering skills that are so valuable to employers. Its excellent curriculum, coupled with outstanding skills and experiential learning, help make John Marshall graduates practice-ready from day one. For practicing attorneys, John Marshall offers nine LLM degrees, more than any other law school in the Midwest. John Marshall is also a leader in providing distance education options in intellectual property, estate planning and employee benefits at the advanced graduate degree level. John Marshall offers six clinical experiences, including the nationally recognized Veterans Legal Support Center & Clinic and the Fair Housing Legal Clinic. U.S. News & World Report's America's Best Graduate Schools 2014 edition ranks John Marshall's Lawyering Skills Program second and its Intellectual Property Law program 12th in the nation.