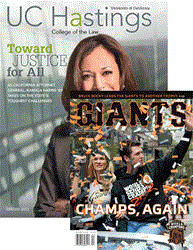 We work in tandem with our clients every step of the way, from content strategy and conceptualization to an award-winning publishing solution - Barney Fonzi, Group Publisher, DCP
Walnut Creek, CA (PRWEB) November 21, 2013
Diablo Custom Publishing (DCP) was honored with two Gold Pearl awards for its exceptional work in custom publishing on November 12, 2013, at the Pearl Awards ceremony held at the Highline Ballroom in New York City. DCP received a Gold Award for Best Opening Spread for the April 2013 edition of Giants magazine and a Gold Award for Best Feature Article/Package for UC Hastings, Spring 2013.
Giants magazine, the official magazine of the San Francisco Giants, is produced six times per baseball season. The magazine's mission is to engage Giants fans through in-depth articles and personalized stories about the players and the Giants' organization. The winning design features an action photo of Buster Posey taken during the 2012 National League Championship Series. The spread was designed by DCP designer Jake Watling, incorporating a photo from Missy Mikulecky, Director of Photography and Archives, San Francisco Giants.
UC Hastings is the alumni magazine for UC Hastings College of the Law. The magazine's purpose is to engage and educate its alumni on current and future happenings at UC Hastings. The winning submission, for Best Feature Article/Package, is an in-depth feature on Kamala Harris, a UC Hastings alum and current California Attorney General, written by DCP Managing Editor Angela Noel.
"We are delighted to have our custom content projects for our clients recognized," states Barney Fonzi, Group Publisher at Diablo Publications. "We work in tandem with our clients every step of the way, from content strategy and conceptualization to an award-winning publishing solution. It is very rewarding to be honored with two Gold Pearl awards."
About Diablo Custom Publishing
Diablo Custom Publishing, the Bay Area's leading custom publisher, provides complete print, online and mobile custom publishing services to a diverse group of clients, including the Oakland Museum of California, John Muir Health, Chevron, University of California Hastings College of the Law, the Oakland Athletics, and the San Francisco Giants. With 32 years of experience and an award-winning creative team, DCP develops integrated marketing solutions that help companies communicate brand value, deepen customer loyalty, and increase revenue. For more information, visit dcpubs.com.
About the Custom Content Council and the Pearl Awards
The Custom Content Council (CCC) is the leading association for the custom publishing industry in the United States and is focused on promoting the growth and vitality of this dynamic marketing discipline.