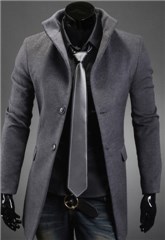 (PRWEB) November 21, 2013
Today, 4leafcity.com, a renowned clothing manufacturer and retailer in China, has released its new collection of men's tweed jackets. For additional information, the company is now offering discounts on these high quality jackets, up to 41% off.
The brand-new men's tweed jacket selection has many hot styles in it. According to the CEO of the company, all these jackets are made from the most comfortable materials. The company's seasoned designers who have been working in the clothing industry for several years, have done market research before creating the new items. Its aim is to make sure that every product can meet the need of customers.
"We are happy to announce our fresh products. To celebrate Thanksgiving Day, we are now striving to release more wonderful clothes for the international customers. What's more, we are providing great discounts on our new collection of men's tweed jackets. We sincerely want to say 'thank you' to all of our customers throughout the world. If you are interested in the fashionable jackets, visit our online shop before Thanksgiving," the CEO of the company says excitedly.
4leafcity.com wants to help customers get the most fashionable clothes at the lowest possible prices. Currently the popular company features nothing but trendy affordable designs. Its hard working makes it one of the leaders in the global market.
About 4leafcity.com
4leafcity.com was founded in 2009 and serves more than 5000 customers from every part of the world. It is one of the leading suppliers of men's and women's clothes, helping the people worldwide develop self-esteem, confidence and love of learning. For a full list of services and to learn more about 4leafcity.com, please visit http://www.4leafcity.com/product-men-s-tweed-coats-009003005.aspx.