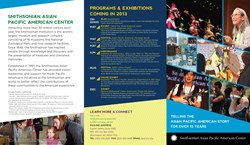 Our total-market expertise was a perfect fit for Smithsonian's Asian and Hispanic focused diversity initiatives.
(PRWEB) November 26, 2013
Total-market agency, Améredia, was recently tapped by the Smithsonian Institution to manage its diversity marketing initiatives for the Asian and Latino groups. Marketing and communications materials that resonate with the diverse demographics were developed by the agency for Smithsonian's Asian Pacific American Center (APAC), and its core initiatives, the Indian American Heritage Project (IAHP) and the Asian Latino Project (ALP). Améredia offered its diversity expertise in support of the museum's unique cultural vision in which each initiative highlights the rich history, art, and culture of Asians, Asian Indians, and Latinos in the U.S and globally.
The museum's partnership with the agency's experienced cross-cultural team could not have been more fitting as both establishments remain dedicated to the nation's most diverse communities. Améredia has served at the forefront of inclusion since its inception in 2003 and specializes in marketing to diverse groups like Hispanics, African Americans, Asian Americans, European Americans, Middle Easterners, Pacific Islanders, and the LGBT community.
"The Smithsonian Asian Pacific American Center was in need of a firm that could adequately service the needs of a growing organization with a very culturally specific mission. Améredia fit the bill as a full-service agency with extensive experience in ethnic-specific marketing strategies and techniques, both of which were must-needs for us," said Amy J. Hever, Senior Advancement Officer, Smithsonian Asian Pacific American Center. "We have enjoyed our partnership with Ameredia and the service they have provided to us."
The agency produced an assortment of materials across both digital and traditional platforms. While it was crucial for each task to successfully target their respective community, Améredia was also challenged with making the content equally compelling to a broader audience. The firm was able to ensure meaningful connections between its client and targeted groups through its ethnic and total market nuances. The foundation for such expertise is built upon the agency's diverse team, having team members come from all parts of the world especially countries specific to Asia, India, and Latin America.
"It's a privilege to partner with the Smithsonian Institution and enable them to realize their vision of successfully connecting with our nation's diverse audiences," said Pawan J. Mehra, founder and principal at Améredia. "Our total-market expertise was a perfect fit for Smithsonian's Asian and Hispanic focused diversity initiatives and we continue to grow our partnership nationally."
With over 30 million visitors each year, the Smithsonian Institution is the world's largest museum and research complex, consisting of 19 museums, the National Zoological Park, and nine research facilities. Smithsonian Asian Pacific American Center and its groundbreaking cultural initiatives offer audiences a unique ethnic experience. For more information on programs and exhibitions visit: http://apa.si.edu/.
About Améredia
Améredia Inc. (http://www.ameredia.com) is a full-service multicultural advertising, marketing and communications firm specializing in building brands within global cultures. The agency enables private, government and non-profit organizations to connect with Hispanics, Asians, Europeans, Middle Easterners, Pacific Islanders, Africans, LGBTs, and other diverse groups nationwide. Conceptualizing culturally engaging campaigns across print, TV, radio, online, outdoors, events, grassroots and social media platforms in over 20 leading languages, Améredia has positioned itself as one of the fastest-growing diverse market agencies nationwide. Connect with Améredia today: http://www.facebook.com/ameredia | http://www.twitter.com/ameredia.