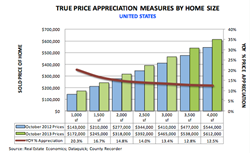 REE's year-over-year measure of price appreciation has averaged 17.9% for the Nation.
Irvine, CA (PRWEB) December 10, 2013
Real Estate Economics (REE) is a leading provider of web-based economic and housing market statistics. REE's True Measures of Price Appreciation Report is available at the national level, for each of the 13 states in which REE does business, and for major counties within these States. REE's measure of National price appreciation is shown to the right:
REE's year-over-year measure of price appreciation has averaged 17.9% for the nation. In percentage terms, price appreciation has been skewed toward smaller homes. During the past 12 months, the change in the nation's home prices has been 37.6% for a 1,000 square foot home, while the price of a 4,000 square foot home has increased by 8.0% during the past 12 months.
"True price appreciation isn't just one number or percentage for a given market," said Mark Boud, Principal and Chief Economist of Real Estate Economics. "Rather, true measures of price appreciation tend to change throughout the spectrum of home sizes. It is important to examine changes throughout the home size spectrum to understand these differences."
The purpose of the True Measures of Price Appreciation report is to provide REE's clients and subscribers a brief yet meaningful measure of real year-over-year housing price appreciation that has occurred in a given region. Because of data 'noise' this measure can't be achieved by simply comparing year-over-year averages. REE reduces this data noise by standardizing the sample set.
For a limited time, complimentary price appreciation reports from REE at the state level can be accessed here. Price appreciation reports at the county level are available on an ongoing basis, and can be purchased on a subscription basis. A list of available county reports can be accessed here.
Real Estate Economics offers national building permit and employment data as well as comprehensive real estate transaction data and residential new home data in select markets throughout the nation. Coming 2014, REE will also be offering demographic data which can be tailored to a specific state, county, city, zip code, census block group or even a user-defined custom polygon or radius. For more information on REE's products and services please visit http://www.RealEstateEconomics.com. For subscription information email contactus(at)realestateeconomics(dot)com or call (949) 502-5151.
-###-