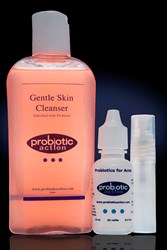 Probiotic for healthy skin.
California, New York, Texas, Florida, Illinois (PRWEB) November 21, 2013
Earlier this month, the team at Probiotic Action aimed to launch their new topical probiotics for acne, eczema, and rosacea; before their launch however, they have taken their packaging design back to the drawing board for a sleeker, cleaner look, to better represent their natural skin cleanser.
The inspiration for their new packaging is designed to represent the simplicity of probiotic action, and hopes to better represent their product as a simple, clean, chemical free solution to most adult acne treatments. The additional push for a label redesign came from the need to portray probiotics for skin care as an uncomplicated item. Often, when probiotics and skin care are discussed, many find that the scientific terms associated with probiotic products lead to a confusing customer experience. Probiotic Action hopes that their new look will make consumers not only feel more comfortable when learning about probiotics, but will eventually create a level of comfort so that they can further their education on the subject as well.
"We want to communicate to our users that our product is an all natural skin care product, and is much more than an acne treatment. While we are still developing packing for our probiotics for eczema and probiotics for rosacea lines, we felt it was necessary to update our look to communicate to the public our philosophy, and commitment to a clean, simple, product," stated Probiotic Action spokesman Fernando Perez when asked his opinion on the label design change.
For further insight on benefits of probiotics, why they are known as the best acne treatment, and information on using probiotics for acne, visit ProbioticAction.com. To stay in touch with Probiotic Action as they offer their new products, like them on Facebook for reviews and product updates.
Probiotic Action is an alternative acne treatments that uses Probiotics for acne containing the "good bacteria" that is naturally found on healthy human skin. By using probiotics, Probiotic Action is an effective treatment that restores the normal bacteria content on skin, while battling what causes acne. Probiotic Action will successfully clear skin when used as an adult acne treatment while protecting skin against bad bacteria, free radicals, and pollutants*.
*These statements have not been evaluated by the Food and Drug Administration. Probiotic Action is not intended to diagnose, treat, cure or prevent any disease.