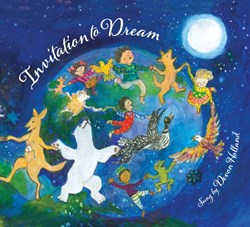 Portola Valley, CA (PRWEB) November 21, 2013
Inspiration comes in many ways, and for the Holland sisters, Kylie (14), Devon (13), and Piper (11), it was the devastating impact that the January 2010 earthquake had on the children of Haiti that inspired them to help create a safe, sustainable home for orphaned and homeless children and babies.
These eco-minded, young entrepreneurs are joining the US Green Building Council's efforts, and aim to raise a lofty $250,000 for Project Haiti - the building of the first LEED certified orphanage in the world replacing the original building destroyed by the earthquake. Making a difference and their love for music, sparked the girls' latest ventures: the formation of their own band, the Zusters, and the launch of Painted Wolf Records, a record label designed to help kids like themselves produce cause-benefiting music projects and distribute them globally.
Their label's first release, Invitation to Dream is a full-length CD of bedtime ballads and lullabies recorded by sister Devon which she started at the suggestion of her vocal coach, San Francisco-based, Peter Maleitzke, when she was 11. As a normal kid with school, homework, softball practice and, of course, music lessons and band practice with her sisters, it took Devon two years to prepare and record this philanthropic album.
"We chose Project Haiti to support because it is the perfect blend of our two favorite causes: helping little children, and saving the environment," says Devon. "Watch our video about the campaign."
Invitation to Dream will be available on November 20th in conjunction with the United Nation's Universal Children's Day at http://www.invitationtodream.com. The worldwide release date is December 3, 2013.
In producing the CD, Devon had a remarkable team supporting her including top vocal coach and producer Peter Maleitzke; Grammy® Award winning recording and mixing engineer, Leslie Ann Jones and her team at Skywalker Sound; concert-level musicians; and the iconic Fantasy Studios in Berkeley, CA. Devon was also fortunate to have award winning, Elisa Kleven, illustrator and author of over thirty children's picture books create the original cover art for Invitation to Dream.
100% of the profits from the sales of Invitation to Dream are going directly to Project Haiti to help USGBC break ground on the orphanage in Spring 2014.
"We wanted to focus on Project Haiti because we felt that despite being such an important issue it had fallen off the national and international radar," adds Kylie. "We hope that this CD will wake people up and get them to take notice of the fact that a lot of work still needs to be done."
Imagined and led by the US Green Building Council in partnership with architects HOK, and recognized as a Commitment Maker by the Clinton Global Initiative, Project Haiti will be the first LEED certified orphanage in the world. As Gina Duncan, Executive Director, Foundation Enfant Jesus for whose kids Project Haiti is being built said: "This green building is an amazing opportunity for Haiti. It's a legacy we're going to be leaving for the next generation." Upon completion, Project Haiti will be named the William Jefferson Clinton Children's Center.
"Devon has worked incredibly hard to support these children," said Rick Fedrizzi, Co-Founder and CEO, USGBC. "We are very proud of what she has accomplished and are grateful that she and Kylie and Piper are doing everything they can to help us complete our fundraising so we can break ground this coming spring and help transform the lives of these children," continued Roger Limoges, Project Manager for Project Haiti.
"Help us achieve our dream to build a green home for these babies and kids in Haiti. Please let them know they are not forgotten," concludes 11-year-old Piper.
# # # # #
CONTACTS
MEDIA
Caroline Rustigian Bruderer
K-Line & Company
949-315-5101
cr(at)k-linepr(dot)com
For Physical Distribution Inquiries, please contact Steffen Franz or Ben Lang at Independent Distribution Collective at 415-292-7007 or sales(at)independentdistro(dot)com
For Digital Distribution Inquiries, please contact Jerome Forney at IDCDigital at 415-292-7007 or jerome(at)independentdistro(dot)com
SOCIAL MEDIA
Facebook - facebook.com/paintedwolfrecords
Twitter - twitter.com/paintedwolfrecs
Instagram - instagram.com/paintedwolfrecords
Pinterest - pinterest.com/paintedwolfrecs