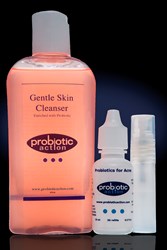 Probiotics for Healthy Skin
(PRWEB) November 22, 2013
For those suffering from acne, finding the right acne treatment, along with the right skin care advice is often a difficult search. Recently, the team at Probiotic Action collected the best healthy skin tips from across the internet and have now created their own "Probiotic" Skin Care Diet, listed on their website blog. As the blog states, consuming foods which aid in the growth of good bacteria, like natural foods, whole grains, and low sugar food items have been known to not only promote overall wellness, but have also be linked to the reduction of acne breakouts. Probiotic Action lists this diet in their recent blog post as a supplement to their natural acne remedies.
After months of research, the Probiotic Action team has collected not only the best foods for clear skin, but has further explored which foods contain the best probiotic properties to supplement a probiotic acne treatment. Whether pickles, or greek yogurt, Probiotic Action has explored which foods have been linked to acne, and which foods, like turmeric tea, and vinegar, have been known to help reduce inflammation, and balance bacteria levels. These foods, spices, and dressings have now been added to their online list of healthy foods to be shared as a reference for the skin care community.
Probiotic Action spokesman, Fernando Perez, offered insight from the blog on why releasing this information to the public is so important when treating acne, and working towards clear skin. "Diet often affects how our skin works to fight bacteria, similar to the way that other organs need nutrients to ward off disease. When we eat right, and stay hydrated, our body is able keep a better balance of good and bad bacteria." Perez continued that educating the public on how to better care for their skin is vital for an acne treatment provider, mentioning that it is Probiotic Actions duty to provide a superior product, and skin care education to its consumers.
For further insight on benefits of probiotics, and why they are known as the "best acne treatment", as well as information on using probiotics for acne, and other skin care issues, visit ProbioticAction.com. To stay in touch with Probiotic Action as they offer their new products, like them on Facebook for reviews and product updates.
Probiotic Action is an alternative acne treatment that uses Probiotics for acne containing the "good bacteria" that is naturally found on healthy human skin. By using probiotics, Probiotic Action is an effective treatment that restores the normal bacteria content on skin, while battling what causes acne. Probiotic Action will successfully clear skin when used as an adult acne treatment while protecting skin against bad bacteria, free radicals, and pollutants*.
*These statements have not been evaluated by the Food and Drug Administration. Probiotic Action is not intended to diagnose, treat, cure or prevent any disease.