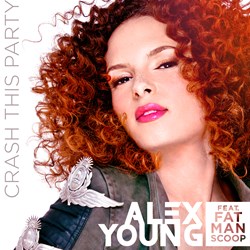 Fatman Scoop had this to say about working with Alex: "I dig her energy and the fact that she's working hard and doin' what she needs to do to win."
New York, NY (PRWEB) November 21, 2013
Pop-Powerhouse Alex Young has CRASHED THE PARTY again with her energetic new single, CRASH THIS PARTY, available on iTunes. The song features legendary Fatman Scoop for something highly entertaining and "hard to pull away from," states StupidDope.com. It's no surprise this club banger went viral in its first weeks of release.
CRASH THIS PARTY's boomin' baseline and catchy melodic elements have Alex Young fans chanting, "Drop it, Lock it, Pop it, Throw it, and tell the DJs to turn it turn it up!" DJs agree, igniting the clubs with this new release—"Even if the crowd is deaf, they're gonna' FEEL this BEAT", declares Chicago's DJ Snooze (WHPK 88.5FM)—and she's giving away two sets of Beat by Dre Solo HD Headphones to her most dedicated fans; http://bit.ly/CTPBeatsbyDre.
Fueled by the success of her earlier releases, "Government Name" and "Don't Play with Me", Alex plans to Crash This Party at every one of her stops along her upcoming International Club tour, scheduled to touch down in London, Berlin, Cologne, Amsterdam, Dubai, Germany, and Japan.
Young's "Pop Power" is undeniable as she introduces us to the smooth attitude of her latest single. It's no surprise that Alex's "Crash This Party" quickly garnered over 300,000 YouTube plays in the first weeks of release. MTV's "New, Now, Next" will be premiering the video December 2, 2013 at 9:30am EST and it is already being featured in retails stores including; Journeys, Macy's, and American Eagle Outfitters.
Fatman Scoop had this to say about this dynamic artist, "I dig her energy and the fact that she's working hard and doin' what she needs to do to win. Soon as we got on the set it was, Boom, Crackin', Poppin', Boom! It was a great experience!" Choreographer Cicely Bradley (Missy Elliot, "So You Think You Can Dance") agrees and added her stamp to the video with explosive choreography that completes the triple threat of this multi-talented artist!
"As a musical director, I have been fortunate to work with some of the top female artists in the world such as Beyonce, Lady Gaga, Mary J. Blige, Aaliyah, Monica, and Faith Evans just to name a few. Upon meeting and working with Alex Young, all I can say is here we go again! Alex is the next generation of modern music" declares, Kern Brantley.
Alex has proven that she is a true entertainer. Her powerful presence exploded onstage with her opening for Cee Lo Green at the Mahaffey Theaterin St. Petersburg, Florida. She is also currently working on her next album, scheduled for release in early 2014. "I'm really excited about the new direction I'm pushing for my album. A funky, electro-pop sound you can't help but jump up and dance!"
She is also getting ready to perform at this year's Art Basel in Miami, FL on December 4, 2013 where, in partnership with White Diamonds International, she will debut her exclusive "Stardust" diamond jewelry collection imbued with fair trade, conflict free, colored diamonds.