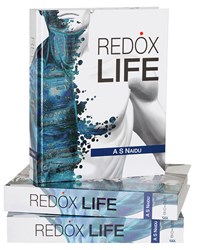 "Redox homeostasis... is vital for normal function of every cell, tissue, organ and physiological system." -Dr. Naidu
San Diego, CA (PRWEB) November 22, 2013
Dr. Narain Naidu recently launched his new book, "Redox Life" at the recent 2013 ASEA Convention in San Diego. "I think this new book is suitable textbook material for University students to learn about the emerging field of REDOX science," says Bob Schwenkler, Triple Diamond MLM ASEA leader from Boise, ID. "We're proud to be with ASEA as the knowledge and implications of Redox Science unfold in the scientific community- especially knowing where this new ASEA Redox product fits in." Learn about the ASEA REDOX product at http://www.OurGlobalHomeBusiness.com.
Dr. Naidu and ASEA will be doing a special presentation for the book and a book signing in Austin, TX Saturday, November 23 at 10AM. Contact Bob Schwenkler (see top right) for more information.
REDOX LIFE is a 534-page authoritative work that elucidates fundamental redox principles in chemistry and biology, uncovers the role of redox interventions in medicine, and captures the interplay between good health and redox-supportive nutrients. This book cites the work of over 150 Nobel Laureates and explains the impact of over 1500 scientific publications on the evolution of life under the influence of REDOX.
REDOX Life is a must-read for physicians, healthcare providers, scientists, students and individuals interested in understanding the role of Redox in human health. REDOX Life is available at major book sellers, including Amazon.com, and from http://www.biorepmedia.com.
ASEA, LLC which launched in late 2010 manufactures the worlds first and only Redox Signaling supplement.
Dr. A.S. 'Narain' Naidu, Ph.D. (Medicine), FACN, FLS is a medical microbiologist and immunologist. Dr. Naidu is the Founder/Chairman of the Naidu Group of Companies. He has more than 30 years of R&D and administrative experience in academia, government, and industry. Dr. Naidu has served as a professor on the faculties of California State University, Pomona, USA; University of North Carolina at Chapel Hill, USA; Malmo General Hospital, Lund University, Sweden; Pecs Medical University, Hungary; and the Institute of Preventative Medicine and Public Health, Hyderabad, India. He is an elected Fellow/Associate of 18 scientific and professional societies; a research consultant to public health agencies and international pharmaceutical enterprises.
Dr. Naidu is also a member of the advisory panels for several multinational corporations and an invited speaker at universities worldwide. He is the author/editor of three scientific volumes and has published over 100 peer-reviewed research articles. Dr. Naidu's research on natural bioactive compounds, lactoferrin, and food safety has garnered global recognition and his inventions are the basis for five Bio-tech companies in the United States. He holds multiple core patents in health-related applications.
Trish and Bob Schwenkler are Independent Associates of ASEA, LLC.