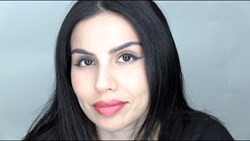 "My goal is to provide other fashion and trend conscious women a one channel destination for DIY, makeup tutorials and valuable beauty tips and reviews." – Felicia Zanguiabadi
New York, NY (PRWEB) November 21, 2013
Felicia's venture into makeup tutorials began with an inspired Maleficent makeup tutorial to accompany her Maleficent costume instructional video for Halloween. Felicia's rendition was a bit more subdued and sexy than the original Maleficent from Disney's 1959 Sleeping Beauty. "I've always loved makeup for its aesthetic qualities and follow runway trends faithfully. I apply the same technique to makeup application as I do to designing clothing. I use inspiration from current runway trends and celebrity looks; then translate them to looks for day, evening or transitional day to evening." Her most current video segment features a series of 2013 Holiday makeup tutorials.
"My goal is to provide other fashion and trend conscious women a one channel destination for DIY, makeup tutorials and valuable beauty tips and reviews." – Felicia Zanguiabadi
Makeup Gurus such as Michelle Phan have stirred, enticed and spawned other viewers to experiment with various makeup looks. Sweet Material is a part of that growing trend, and provides relevant, substantial help and information to all of those who are fashion and beauty conscious and have a passion to become a part of it. Felicia's blog sweetmaterial.com is an addition to her YouTube channel, which also covers other relevant topics such as pregnancy tips, beauty product reviews, skincare tips and advice. The future of SweetMaterial.com and its YouTube Channel look extremely promising and bright. Stay tuned for a lot more sweet material in the horizon!
About SweetMaterial.com
Felicia Zanguiabadi attended the Fashion Institute and has interned with world-renowned fashion designer Vera Wang. Determined to share her knowledge with others, she developed tutorials for sewing, draping, cutting and designing garment pieces. Within a short amount of time, her videos were positioned among the top ten YouTube instructional videos.