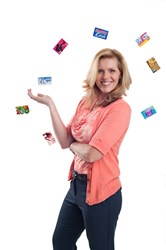 Gift Card Girlfriend releases her annual holiday gift card lists to help busy shoppers pick the best gift card every time.
Pittsburgh, PA (PRWEB) November 21, 2013
While gift cards are again expected to top the list of most purchased gifts this holiday season, people often struggle to figure out which gift cards will bring the most joy. Enter Gift Card Girlfriend, the industry's most authoritative figure, with her annual holiday gift card lists and tip sheets to help busy shoppers pick the best gift card every time.
Gift Card Girlfriend (a.k.a. Shelley Hunter) explains, "Gift cards can be purchased online, in stores, at convenience stores, at gas stations, and even via smartphones. They can be open loop, closed loop, hybrid or even next-generation gift credits. With so many choices available, consumers can use a little help."
The following lists are available on the media page at GiftCards.com:

Jason Wolfe, CEO of GiftCards.com, hired Gift Card Girlfriend to help consumers navigate the large variety of gift cards in today's market. "Gift cards have come a long way," comments Wolfe. "The possibilities are endless, but it can be a little intimidating. Gift Card Girlfriend's lists are the most useful resource to help consumers get the best gift cards."
About GiftCards.com
Since 1999, GiftCards.com has provided U.S. consumers with an array of gift card products including personalized gift cards, personalized store brand gift cards, group gift cards, virtual gift cards, discount gift cards, and local gift cards. In 2012, the company delivered over one million gift cards to American homes. GiftCards.com is also a leader in gift card innovation with over 38 patents filed and 4 patents issued.
About Gift Card Girlfriend
Founded by Shelley Hunter and acquired by GiftCards.com, Gift Card Girlfriend is the consumer guide to gift cards. From gift card tips and practical advice, to inspiring ideas and insights into the gift card industry, Gift Card Girlfriend can address any gift card question or concern, plus share her signature way of turning gift cards into thoughtful, personalized gifts.