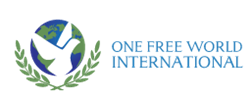 It is our responsibility to speak up regarding human rights violations. We must be a voice for the voiceless.
TORONTO, Ontario (PRWEB) November 21, 2013
On Saturday, November 23rd, One Free World International founder Majed El Shafie will host Minister of the State for Multiculturalism, Hon. Tim Uppal, and international leaders and human rights victims in Toronto for a round table discussion of the human rights situation in China. The meeting was prompted by Liberal Party of Canada leader Justin Trudeau's recent headline-making remarks that appeared to favour China's dictatorship. The closed-door meeting will be followed by a 30-minute press conference to be held at 11:00 a.m. in the Toronto Room at Verity, located at 111d Queen St. E. All media are welcome.
Other scheduled participants for the meeting and press conference include representatives from Federation for a Democratic China, China Rights Network, The Council for Human Rights in North Korea, Taiwanese Human Rights Association of Canada, Uyghur Canadian Society, Students for a Free Tibet Canada, Alliance of the Guard of Canadian Values, Movement for Democracy in China (Calgary), Public Affairs Division of Taiwanese Canadian Association of Toronto and Falun Gong Human Rights Group. In addition, many of the representatives are bringing human rights victims from around the world.
"This meeting is incredibly important," said El Shafie. "We are pleased to speak with Mr. Tim Uppal about the need to strengthen Canada's policies and programs in an effort to promote an improvement in human rights in China. It is our responsibility to speak up regarding human rights violations. We must be a voice for the voiceless."
El Shafie has a unique voice of his own, having once been arrested, tortured, and sentenced to die in Egypt for defending human rights and fighting for freedom of religion and the rights of minorities. In recent months, El Shafie has been featured on CBC, FOX News Radio, CTV News, CTV W5, Mike Huckabee Show, Glenn Beck, Sun News Network's The Arena with Michael Coren and The Source with Ezra Levant, talk radio leader Laura Ingraham and more.
For more information on One Free World International, visit http://www.onefreeworldinternational.org.