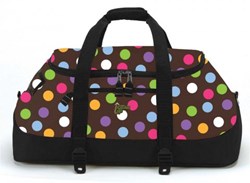 We have a great assortment and variety, different sizes and styles of duffel bags for kid's summer camp stays.
Boyd, WI (PRWEB) November 21, 2013
Travel Using Camp Duffels for the Holidays
As we move into the middle of November, it's always exciting to anticipate the approaching holidays. First there's Thanksgiving at the end of the month, Christmas around the end of December, and New Year's Day just one week after Christmas is over. The coming holidays mean a lot of things and one of them is most definitely travel.
People come and go from all across the country (as well as in and out of the country) to see their family and loved ones around the holidays. It's incredibly important for people to be together and see each other this time of year. Of course it's always good to see the people that we want to be around for the holidays, but being away from home can sometimes be stressful.
Traveling for the holidays can mean being away from home for days and days and days which means being packed well for the time away. This is a perfect time to get even more use out of a camper's duffel bags that got used for summer camp last summer. Remember how much was able to be packed away in that bag? Reap the benefits all over again!
"We have a great assortment and variety, different sizes and styles of duffel bags for kid's summer camp stays," says Kristy Sterling, Lead Buyer of Everything Summer Camp. Everything Summer Camp is a leading online summer camp outfitter for a camper's summer camp needs. Offering ten different duffel bags, Everything Summer Camp is a great place to find great deals on duffels.
Duffel bags like the Pop Up Soft Trunk (a soft alternative to a rugged camp trunk), the Go Big Duffel, and other options that attach to hard and soft trunks like the Snap On Duffel Bag and Piggy Back Duffel Bag are great items for packing a lot. But Everything Summer Camp also carries the simple, standard JanSport Duffel. Whether camping or visiting the parents for the holidays, make sure to travel with a duffel!
About Everything Summer Camp
Everything Summer Camp has been helping kids get ready for summer camp since 1987. Their wide selection of camping gear includes camp trunks and other camping supplies. Top selling items include water bottles, cot-sized bedding, rain jackets, insect repellent, iron on labels, and more. Known for their customer service and fast shipping Everything Summer Camp is recommended by more camps than any other camp outfitter.
Visit http://www.EverythingSummerCamp.com to learn more about camp footlockers, name labels, duffel bags, and camping supplies.