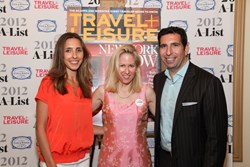 It is a massive honor for Remote Lands to be included on this very prestigious list published by one of the top travel magazines in the world
New York, New York (PRWEB) November 23, 2013
Remote Lands, the world's leading ultra-luxe Asia travel designer, is proud to announce that its CEO and co-founder Catherine Heald has been included in Travel+Leisure's prestigious A-List for the second year in succession.
The A-List, now in its 12th year, lists the 161 top travel experts in the USA, categorized by region. Catherine was included in the Southeast Asia section, based on her in-depth knowledge and experience travelling in the region, and receiving particular praise for her excellent work in arranging, amongst other experiences, a traditional Balinese wedding for a Brazilian couple.
"It is a massive honor for Remote Lands to be included on this very prestigious list published by one of the top travel magazines in the world. We are thrilled to be listed alongside the foremost names in the travel business, such as Valerie Wilson, Priscilla Alexander, Anne Scully, Mary Anne Ramsey and Michael Holtz" said Ms. Heald.
She added: "Southeast Asia is an area of the world where expert advice makes a world of difference. Our vast knowledge of the region helps Remote Lands produce highly personalized itineraries as well give clients insider experiences that they won't find anywhere else in the world."
See the full list here:
http://www.travelandleisure.com/promo/pdfs/tl-a-list-top-travel-agents-booklet-2013.pdf
About Remote Lands, Inc.
Remote Lands, Inc. creates highly personalized, ultra-luxe holidays in Asia, optionally by private jet or yacht. Based in New York and Bangkok, we specialize in extraordinary experiences that are difficult to arrange and require privileged access to important people and exclusive events, drawing upon our relationships with remarkable people around Asia. We distinguish ourselves with our white-glove service, creative itineraries and extreme attention to detail.
Remote Lands has been featured in The New York Times, The Wall Street Journal, Departures, Travel + Leisure, Condé Nast Traveler, Town & Country, the BBC, Fox Business News, Financial Times, National Geographic Traveler, W, Newsweek, Forbes, BusinessWeek and more.
Remote Lands' destinations include: Bhutan, Cambodia, China, India, Indonesia, Japan, Laos, Malaysia, the Maldives, Mongolia, Myanmar (Burma), Nepal, North Korea, Papua New Guinea, the Philippines, Singapore, South Korea, Sri Lanka, Thailand and Vietnam.