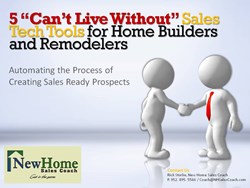 "Change can be difficult - but home builders and remodelers who embrace technology will benefit big time in the long run." Rick Storlie
Minneapolis, Minnesota (PRWEB) November 21, 2013
In today's fast-paced world, home builders and home remodelers need to embrace technology – that is, if they want to remain competitive.
Generating and nurturing leads from the initial point of contact and throughout the sales process can mostly be put on auto-pilot when using the right tools.
"The biggest challenge I see with the builders who are in my coaching programs is making the transition to using these systems," Rick Storlie, CEO of New Home Sales Coach said. "But once they do, the payoffs are huge."
To help builders make this transition to the techie world, Storlie has created another complimentary training series called "The 5 Can't Live Without Sales Tech Tools for Home Builders and Remodelers."
"The specific tech tools that builders choose need to be compatible with their sales processes," Storlie explained, "and when that happens, the result is lower marketing costs, increased efficiency, improved return-on-investment, easier lead management, and more sales opportunities.
In this first video, Storlie kicks-off the series explaining specifically how to use tech tools for each stage of the lead generation and sales process.
Storlie admits that initially making the shift to using his recommended tech tools can be difficult. It requires an investment in the tools, and dedicating time to set-up the new processes.
To view the first video of this series, go to: http://www.nhsalescoach.com/tech-tools-for-home-builders/automating-the-process-of-creating-sales-ready-prospects.