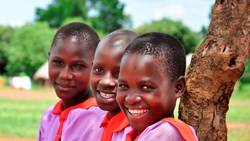 Oxford, Oxfordshire (PRWEB UK) 21 November 2013
Girls' academic achievement, especially at the secondary level, is believed to have long-lasting and far-reaching economic effects in developing countries. However, complex factors work against girls' education: poor families continue to favor boys when investing in education; household chores, inheritance rights, marriage practices, and sexual violence all contribute to the hostile environment for girls' schooling. However, one straightforward factor contributing to low rates of girls' secondary school enrollment appears to be lack of access to sanitary products. A growing body of research, including that from the Oxford team, indicates that the provision of sanitary products in developing countries may offer a faster, more direct, and less expensive means of raising school attendance and academic performance among girls than is seen from the more common community engagement programmes aimed at retaining girls in school.
In 2010, an Oxford team reported research conducted in Ghana showing improved attendance among girls given free disposable sanitary pads. This research is continuing now in Uganda with a preliminary study to assess the acceptability of locally produced, eco-friendly sanitary alternatives among primary and secondary schoolgirls. The study set out to determine whether a sustainable technology could be substituted for the existing products favoured by the girls including commercial pads or home-made substitutes, without detrimental effects or rejection by the girls.
The sustainable technology research, led by Professor Linda Scott of Saїd Business School and Professor Paul Montgomery of the Department of Social Policy and Intervention at Oxford University, tested four alternative technologies: three locally-designed and produced cloth pads; one pad made locally from sustainable plant materials (papyrus); and purpose-built, individual level incinerators, in a large secondary school (over 1,000 students) located in a remote area. The cloth pads were also tested in primary schools within the same catchment.
After a five-month trial period, the study indicated that at secondary school level, disposable pads will be chosen by the girls even when free cloth pads are provided. Disposable pads were judged to be more discreet, practical to use and reliable by the girls. In many settings, the use of commercial disposable pads is problematic due to cost and environmental concerns, so the identification of suitable alternatives which address these issues is significant. In the trial, a papyrus pad, a disposable and sustainable technology, was deemed equal to or better than the commercial pads typically available in local shops. A locally made cloth pad was also acceptable.
"This is a very promising development," said Professor Linda Scott. "In order to keep girls in school, and allow them and wider society to reap the economic, social and personal benefits of that, we need to address the practicalities of their lives and the everyday obstacles they face at a grass roots level. We need to identify suitable sanitary products and technologies which are both acceptable to the girls themselves, and to their communities. This study offers real encouragement that the available sustainable products could be scaled-up to address this issue in developing countries in an affordable, culturally appropriate and environmentally sustainable way, which will be acceptable to all stakeholders."
Besides pads, the study trialed an incinerator but the study produced inconclusive results because of a local belief that burning menstrual blood would cause infertility. Girls reported having used the incinerators, but the actual equipment showed little actual use. "Governments and other agencies working with girls in remote areas must take extra care to discern local beliefs before investing in incinerators," warned Professor Montgomery. "Though we inquired about myths and practices before the study began, informants were hesitant to admit the belief about burning blood. Even after special visits to the school to reassure the girls, this deeply rooted belief still affected behavior."
The girls in the primary school test were given only cloth pads. "In other research we are doing in the area, we found that disposable pads were seldom available for sale nearby and that families were unlikely to see pads as a necessary item, even though they were affordable. Given these barriers, we felt we should test well-designed cloth alternatives rather than the basic home-made products in widespread use, for the larger trial of the impact on attendance in primary schools," remarked Professor Scott. The design of the cloth pads—with plastic liners, fasteners, and inserts—provided much better stability and protection. Girls reported they were more able to engage in a variety of activities, in addition to going to school more often. Access to soap and water were problems in the primary school test, however and authorities need to provide washing facilities and materials accordingly. In the larger trial, packets of soap were being given out along with the pads.
An important piece of data coming out of the demographics collected with the study showed that, in the secondary school, half the girls from rural homes had used disposable pads while still in primary school, despite their measurable poverty. "Bearing in mind how hard it is to get the pads in these particular areas and how rarely families will spend money on them, we were dumbfounded at how high the proportion of girls who had used disposables was among those who had made it to the secondary level. We had unexpectedly stumbled upon a strong suggestion that the pads do make a difference. Or, to be more precise, how much difference it makes to come from a family who will provide them," said Professor Scott.
"In the secondary school, there remained a preference for disposables despite generally positive reception of the cloth pads," Professor Scott points out. "For this reason, governments need to continue to support the development of papyrus and other sustainable disposables, as well as to investigate further the potential of the incinerator. Though the Mak 1 uses no fuel, burns at medical waste, and has low emissions, the most important feature is that it is installed at the individual toilet level, giving the girls privacy when disposing the pads. We have found that girls simply will not walk to a public incinerator—even if it is a very short distance away—with a used pad in hand."
The research team also includes Dr Catherine Dolan of the School of Oriental and African Studies at the University of London, Professor Sue Dopson from Saïd Business School, and Doctoral Student Laurel Steinfield. The research was substantially assisted by the ATLAS (Applied Technologies for Learning in the Arts & Sciences) lab at the University of Illinois, which worked with ground teams in real time to collect the data on iPads. This research group continues to advocate for sanitary care provision for schoolgirls in the developing world and maintain that it is important for the international development community to give more attention to the intimate conditions at the "girl-level," rather than act on uninvestigated assumptions about price or hygienic practices. The team believes the rapid positive effects of helping girls stay in school should encourage policy-makers to emphasize sanitary care in the present, rather than wait for long-term changes in infrastructure and attitudes.
For further information or to speak with Professor Linda Scott or Professor Paul Montgomery, please contact the press office:
Clare Fisher,
Mobile: +44 (0) 7912 771090; Tel: 01865 288968
Email: clare(dot)fisher(at)sbs(dot)ox(dot)ac(dot)uk
Josie Powell, Press Officer,
Mobile +44 (0)7711 387215, Tel: +44 (0) 1865 288403
Email: josie(dot)powell(at)sbs(dot)ox(dot)ac(dot)uk or pressoffice(at)sbs(dot)ox(dot)ac(dot)uk
Notes to editors
1 About the study
This study was funded by Green Templeton College. Reports are being published by the Skoll Centre for Social Entrepreneurship.
The report is available at: http://sbs-sancare.nsms.ox.ac.uk/new-study-of-eco-friendly-sanitary-options/ . All reports, as well as background about the test, the products, and the producers are available at http://www.doublexeconomy.com/publications-projects-2/sanitary-care-and-girls-education/ Photographs are available for press use.
2 About the products tested
The three cloth pads in the trial included: Mwezi Pads, KMET Pads, and AFRIpads. Kenyan women's collectives use locally made fabric make Mwezi Pads on sewing machines; KMET Pads are washable terry cloth pads produced by teenage mothers in Nambale District, Kenya; and AFRIpads are washable, fleece pads produced in Uganda by women in villages.
The papyrus pad and incinerator were both developed by Professor of Engineering Moses Musaazi, Makerere University. The MakaPad is made from recycled office paper, rainwater, and papyrus, which grows in profusion on public lands in Uganda and replenishes in less than six months. The pads are hand-produced in several locations in Uganda. The individual-level Mak 1 Incinerator has a simple design: a chute placed inside the latrine connects to a small incinerator just outside the toilet building so girls can throw away pads discreetly. No fuel is required as the design creates an air intake that will burn all its contents to ash and to temperatures above medical waste standards.
3 About the faculty
Professor Linda Scott: http://www.sbs.ox.ac.uk/community/people/linda-scott
Professor Paul Montgomery:http:// http://www.spi.ox.ac.uk/staff/academic/profile/montgomery.html
Dr Catherine Dolan:http://www.soas.ac.uk/staff/staff86374.php
Professor Sue Dopson: http://www.sbs.ox.ac.uk/community/people/sue-dopson
Laurel Steinfield: http://www.sbs.ox.ac.uk/community/people/laurel-steinfield
4 About Saїd Business School
Saïd Business School at the University of Oxford blends the best of new and old. We are a vibrant and innovative business school, but yet deeply embedded in an 800 year old world-class university. We create programmes and ideas that have global impact. We educate people for successful business careers, and as a community seek to tackle world-scale problems. We deliver cutting-edge programmes and ground-breaking research that transform individuals, organisations, business practice, and society. We seek to be a world-class business school community, embedded in a world-class University, tackling world-scale problems.
In the Financial Times European Business School ranking (Dec 2012) Saïd is ranked 12th. It is ranked 13th worldwide in the FT's combined ranking of Executive Education programmes (May 2013) and 24th in the world in the FT ranking of MBA programmes (Jan 2013). The MBA is ranked 5th in Businessweek's full time MBA ranking outside the USA (Nov 2012) and is ranked 5th among the top non-US Business Schools by Forbes magazine (Sep 2013). The Executive MBA is ranked 23rd worldwide in the FT's ranking of EMBAs (Oct 2013). The Oxford MSc in Financial Economics is ranked 6th in the world in the FT ranking of Masters in Finance programmes (Jun 2013). In the UK university league tables it is ranked first of all UK universities for undergraduate business and management in The Guardian (Jun 2013) and has ranked first in nine of the last ten years in The Times (Sept 2013). For more information, see http://www.sbs.ox.ac.uk/
ENDS