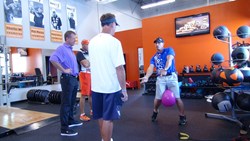 My goal was to create a facility dedicated exclusively to golf, featuring the kind of purposeful attention we give players on the PGA Tour. It's exciting to see players improve and reach their goals.
Jupiter, FL (PRWEB) November 22, 2013
Jupiter, Florida is not just a premiere golf destination. It is also home to the recently expanded golf fitness and training facility of Coach "Joey D" Diovisalvi. Here, players at all levels have access to a bona fide Tour-level experience.
The Joey D Golf Performance Center is modeled after the fully stocked Fitness and Equipment facilities used by players at the weekly stops on the PGA Tour. The Center features a complete golf-specific fitness room, two Trackman-enabled indoor hitting bays, and advanced golf club assessment equipment.
"I wanted to create an authentic environment where any committed player could discover effective methods to improve their game," says Joey D. "Improvement requires a commitment of time, energy and resources. I believe players deserve a facility that's as committed to game improvement as they are."
Coach "Joey D" Diovisalvi is expert biomechanics coach for PGA Tour professionals Keegan Bradley and Dustin Johnson, and the author of "Fix Your Body, Fix Your Swing" (St. Martins Press). joeydgolf.com was founded in 2010 to provide golfers with golf biomechanics instruction and training.