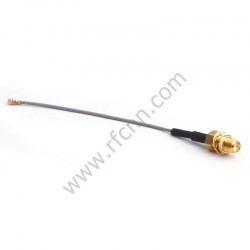 (PRWEB) November 23, 2013
Recently, RFcnn.com, a famous company offering many kinds of cables, has announced its new collection of pigtail cables. The new high end products are specially manufactured to expand the company's American market.
RFcnn.com is outstanding for many factors. The company doesn't just feature practical products; it also offers discounts frequently. On its website, it offers only high quality products, cutting down the long process of picking. Hence, customers throughout the world can save a lot of time and energy. Those who want to purchase excellent cables can just visit RFcnn.com and they will certainly get what they want.
According to the CEO of the company, pigtail cables are now badly needed in many industries. "That's why we decided to manufacture more cables. We intend to meet the needs of our clients. You know, that's our responsibility. Our items are 100% with the top quality materials and exquisite craftsmanship, so you don't have to worry about anything," he says.
The company also does market research at times. With that, they can know well about the customers actually need at present. As a result, it is now one of the leaders in the industry.
About RFcnn.com
RFcnn.com is an online shop of Zhenjiang Fourstar Electronics Co. LTD, which is a China based company that aims to provide customers with high quality products at the lowest possible prices. Customers can try the company's products through sample orders with a long-term contract. Most customers come back soon after receiving their first deals.
More details about the company's high quality connectors can be found at http://www.rfcnn.com/SMA-Female-TO-U-FL-Cable-Assembly-Jumper-105.html.