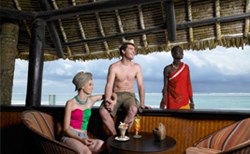 (PRWEB UK) 22 November 2013
Safari and Africa adventure holiday specialists Freedom Africa have added another invigorating outdoor pursuit package to their ever expanding portfolio.
This takes the form of their new twelve-day Kenya Safari and Reef experience, an original negotiation of one of the largest game reserves in all of Africa.
This experience is the best of both worlds, starting with rugged safari camping, and ending with a four star stay in a hotel in the Kenyan coastal hub of Mombasa.
At the start of this adventure, there is a combination of excitement and anticipation at seeing some of the world's most beautiful animals in their natural habitat, and so much more. This experience does not limit travelers to one National Park, but three, with each offering something slightly different from the last and ending at a top resort, all for only £1517 per person.
Home to the revered Big Five game, the Maasai Mara National Park and Amboseli National Park enable travelers the opportunity to catch them all with four-wheel game drives taking tourists around the reserves and allowing them exclusive access to the animals in the great outdoors.
It is known as a photographer's paradise due to the surroundings and amazing scenery. It is at Lake Naivasha and Lake Nakuru where travelers catch a glimpse of flamingos encompass the area; however Nakuru is so much more. It is a sanctuary for the black and white rhino, as well as the endangered Rothschild giraffe.
Day two is where the bush journey really begins with a journey into the foothills of the world famous Mount Kilimanjaro, and a game drive around Amboseli National Park.
Amongst the animals and safaris, will be the opportunity to visit the Maasai tribal lands while having the chance to see the simple ways of life that these tribes experience.
After eight days of bush adventures, travelers will return to Nairobi Airport, a journey that passes through the breathtaking Maasai Mara, then flying onto Mombasa to experience a four night stay in the top Diani Reef Beach Resort.
After eight days of camping, a top resort to enjoy the beach is the perfect end to the trip and with restaurants, bars and even an on-site casino, there is something for everyone to enjoy.