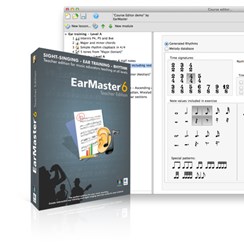 2000+ ear training and sight-singing exercises with real-time voice input
Egaa, Denmark (PRWEB) November 22, 2013
EarMaster ApS just extended their series of educational software titles for ear training and sight-singing with the release of EarMaster 6 Lab Packs for music schools.
EarMaster 6 Lab Packs enable educational institutions to install multiple copies of EarMaster 6 and make them work in mixed Windows/Mac OS X networks. The software can support an unlimited number of user profiles (teachers and students) which can be loaded from any workstation in the network.
Besides including the full feature set of EarMaster's flagship titles EarMaster Pro 6 and EarMaster 6 Teacher Edition, the lab packs also offer additional tools for user and class management, as well as real-time monitoring of student results.
Feature highlights:

Unlimited number of Student and Teacher profiles in the network
Course editor to create sets of lessons, drills, and tests for music students at all levels
2000+ ear training and sight-singing exercises with real-time voice input. See video of sight singing with EarMaster.
User and class management tools
Automatic syncing of user profiles, results, assignments and progression across a local network
Detailed overview of student results
Advanced exporting and printing of student results
Creation of custom melodies for melodic and rhythmic exercises (melodic dictation, sight-singing, melody imitation, rhythmic sight-reading, etc.)
MusicXML import
Library of 180+ royalty-free Jazz and Classical standards ready to be used in EarMaster Courses
Works in mixed Windows/Mac networks
Licensing and pricing:

5-computer license - €/$ 199
10-computer license - €/$ 299
30-computer license - €/$ 599
100-computer license - €/$ 1199
Upgrade offers are available for owners of EarMaster School 5 multi-seat licenses.
About EarMaster ApS
EarMaster ApS is a Danish software company dedicated to the development of interactive tools for
computer-aided music education, including the popular free Interval song example chart. Founded in 1994 by developer and musician Hans L. Jakobsen, EarMaster ApS stands out as a reference in its field thanks to continuous work and development, and a genuine dedication to all musicians, music students and teachers. EarMaster is distributed in a wide range of countries through a network of national distributors and retailers, and is available as a download and in a box from http://www.earmaster.com.
###