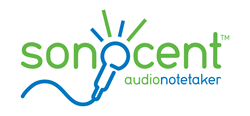 Madison, WI and Leeds, UK (PRWEB) November 21, 2013
Leading assistive technology manufacturer Sonocent has announced a new update to their successful note-taking software. Audio Notetaker 3.1 builds upon its unique audiocentric approach to note taking with new functionality aimed at improving the user experience for students with learning disabilities and enabling instructors to create content for flipped classroom programs.
The new text-to-speech function within Audio Notetaker 3.1 will read text out loud for the user, highlighting words as they are spoken. This function can be applied to imported text from PowerPoint slides, accessible PDF documents,, and even the user's own typed notes.
Assistive Technology Expert Abi James comments:
"Reading disabilities can affect as many as 1 in 10 individuals. Sonocent Audio Notetaker already provides a note taking method which is especially effective for those who struggle to read and write. It has built upon that by offering a way for students to easily access information from supplementary material such as presentation slides and journal articles."
Basic support for the popular Livescribe smartpen Pencast format has been added. Audio Notetaker will now read bookmarks made using Livescribe Pulse or Echo pens, and audio recordings can be easily added using the file manager. Sonocent Director, Dave Tucker, explains:
"Sonocent believe that students should create notes in a way that works for them. Audio Notetaker can be used alone or in conjunction with other tools. By adding support for Livescribe Pencasts we can help students get more value from their audio recordings made with a smartpen."
An 'export to video' feature has also been added for instructors creating presentations to be shared online. Once slides have been imported, instructors can quickly and simply edit their audio within the software. When they are ready to share, they can export their presentation as a video file and upload it to the internet.
The latest update has also enhanced and improved the user experience for many other features.
For more information, please visit http://www.sonocent.com.