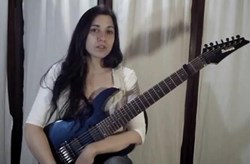 (PRWEB) November 21, 2013
In this lead guitar lesson now available on YouTube.com, Alejandra Mesliuk teaches a cool licking in B Minor Pentatonic that incorporates the techniques of hammer-on, pull-off, and tapping.
Tapping is a technique where the fingers on the non fretting hand are used to fret (tap) notes on the fret board. This technique was made famous by Eddie Van Halen when he recorded the iconic track Eruption on Van Halen's debut album. On that track he played arpeggios on single strings by fretting two notes of a triad on his fretting hand and tapping the third note with his non fretting hand. This technique has become a staple in hard rock and heavy metal music ever since.
In this video lesson, Alejandra is using a three note per string minor pentatonic scale pattern, which features the diminished 5th, or the Blue note, by which makes it a blues scale. She starts off by fretting the 7th fret of the 1st string with her first finger and then hammering to the 10th fret and then to the 12th fret, then she uses the first finger of her right hand to Tap the 13th fret and then uses pull-off's to descend all the way back down the pattern. Then she moves to the second string and does pull-offs from 12th fret to the 10th and then to the 7th and then uses hammer-on's to ascend back up to the 12th fret and follows that by tapping the 15th fret with her right hand again. Next Mesliuk, moves to the third string starting on the 10th fret, which is the blue note and does pull-offs to the 9th and 7th frets and then again uses hammer-ons to ascend back up and uses her right hand to tap the 14th fret and then using pull-offs again she descends back down to the 7th fret and finally finishes the lick by doing a hammer-on to the 9th fret of the 4th string. Alejandra breaks the lick down into small sections making it easy to learn. Guitar TAB's for this lead guitar lesson are available at GuitarControl.com.
Alejandra Mesliuk
Alejandra Mesliuk is from Buenos Aires Argentina. She studied jazz guitar harmony and under the method in Temperley Berklee School of Music by Ariel Ferreyrola. She has been an area teacher and clinician for the last 10 years in electric guitar, classical, and musical language. She is currently working on a solo album.
About GuitarControl.com
GuitarControl.com is the leader in modern guitar instruction. It's packed with recourses including articles, video lessons, and the best videos in the business for the beginner to the advanced guitar student taught by the best instructors out there. Weather you are into the blues, rock, jazz, metal, folk, or anything in between, they have you covered.