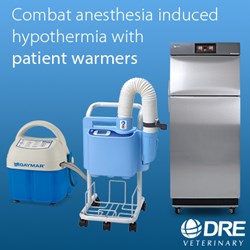 Louisville, KY (PRWEB) November 27, 2013
DRE Veterinary has expanded its line of patient warmers designed to combat anesthesia induced hypothermia. Anesthesia induced hypothermia can lead to wound infection and physiological stresses.
Both of these side effects can elevate blood pressure and heart rate in patients — potentially causing long-term harm.
DRE Veterinary's new WarmTouch 6000 Warming Unit features a convective system that circulates heated air according to five different intensity settings. The unit is a lightweight 11.5 pounds and comes with an optional transport cart. The WarmTouch also has an intuitive touch screen and a versatile, durable blanket range, making it convenient for a variety of procedures.
When veterinary patients undergo operations that involve the use of anesthesia, they sometimes have difficulty regulating their own body temperature. Without this regulation, patients can easily slip into a hypothermic state.
This tendency toward anesthesia-induced hypothermia is present in many different kinds of animals, including cats and dogs.
One of the key ways clinicians can reduce the risk of anesthesia induced hypothermia is by maintaining the patient's body temperature throughout the procedure, and DRE's selection of patient warmers offer medical professionals different options to suit any practice.
Nathan Claypool, the director of DRE Veterinary Health and Science, said the company added new patient warmers to keep with DRE's commitment to providing choice and value to customers.
"We continually strive to bring our customers products that help them improve care in their practice and their bottom line," Claypool said.
Clinicians can also regulate their patients using circulated water with the Gaymal T/Pump Localized Therapy System. This updated unit provides localized warming and cooling therapy with precise temperature controls. The Gaymal T/Pump modulates for slight temperature changes, features a three-layer safety system, and can be used with regular tap water.
A simpler way to ensure veterinary patients are warm and cozy is using one of the dependable blanket warmers from DRE Veterinary's Comfort Series. DRE Veterinary has nine different styles of blanket warming cabinets that warm blankets quickly and have easy to use digital controls.
About DRE Veterinary
For over 25 years, DRE Veterinary has worked with many of North America's top veterinary facilities and organizations. They provide products and services that make sense, save their client's time and money, and allow veterinary surgeons to do the things they do best. DRE Veterinary is located in Louisville, Ky.