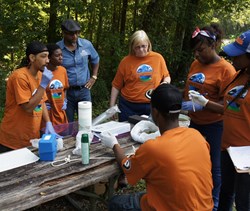 New Orleans, Louisiana (PRWEB) November 23, 2013
Today AECOM, a leading global provider of professional technical and management support services in more than 140 countries around the world, and Limitless Vistas, Inc. (LVI), a nonprofit organization based in New Orleans, LA, announced a partnership to train and employ some of the region's most at-risk youth for new jobs in environmental restoration.
LVI has been training local at-risk youth in the skills needed for environmental jobs for the past six years. With the opportunity of hundreds of millions of dollars in ecosystem restoration projects coming online across the Gulf Coast in the coming years – as a result of fines and penalties from the 2010 Deepwater Horizon oil spill – LVI is eager to find work for its graduates. They have trained more than 350 youths to date and are seeking new ways to connect disadvantaged workers to new environmental careers and skills. To this end, they forged a groundbreaking agreement with AECOM, a Fortune 500 company ranked by Engineering News-Record as the number one design firm in the U.S. with an extensive history working on ecosystem restoration, to work together to develop a comprehensive training program that will help prepare these students for jobs in the environmental construction industry. This would include familiarizing them with on-the-job construction practices and safety standards, informing them about likely projects to be constructed in the near future and introducing them to prospective construction contractors.
"We've been talking about the chronic need for proper youth job training with local environmental resource managers for years," says Patrick A. Barnes, a professional geologist, President of BFA Environmental, and founder of LVI. "We're delighted that AECOM has responded with a desire to provide project access in the Gulf Coast and to allow students from LVI's training program to shadow their environmental field personnel over the next year." Barnes and representatives from the Corps Network and American Youth Works worked out the agreement with AECOM, which will ultimately include restoration projects across all five Gulf States.
"AECOM is committed to finding ways to ensure that our projects bring benefits to both the environment and the people of the Gulf Coast," says Dr. Steve Mathies, AECOM's vice president for coastal protection and restoration. "LVI is paving the road toward training and placing those who have suffered the most with jobs and projects that will benefit everyone."
AECOM will assist with the development of suitable coastal restoration job training curriculum and endeavor to provide access to internships and job opportunities for LVI graduates. The pilot training program will emphasize various elements of environmental fieldwork and begin in 2014.
"Economists believe the RESTORE Act could create more than 57,600 Gulf Coast jobs in the coming years driving new demand for skilled workers," says Jeffrey Buchanan, senior domestic policy advisor for Oxfam America, a global development organization, which helped to fund the new pilot training work. "It's very exciting that a company like AECOM, with their resources and expertise, has expressed such an interest in helping nonprofits and at-risk workers to connect the dots between training programs and real jobs."
LVI's coastal restoration job training program enjoys the support of several organizations, including the EPA, Oxfam America, the Corps Network, the City of New Orleans, and BFA. The Barataria-Terrebonne National Estuary Program and Jean Lafitte National Park have also agreed to provide project access and material support. Moreover, the Corps Network, through funding from the Walton Family Foundation, has pledged to help build capacity for LVI and other Gulf Coast conservation corps in the coming years.
About LVI
Limitless Vistas, Inc. (LVI) is a 501(c)(3) non-profit organization dedicated to providing, environmental and related fields - job training to marginalized and often disconnected young adults. LVI was founded in 2006 in New Orleans and since that time has trained over 350 young adults as entry-level environmental technicians. As a member of the 21st Century Conservation and Service Corps, LVI is committed the belief that through working to preserve and protect our environment young adults will be reconnected to society; additionally, a strong link is maintained between the needs of industry and the skills training/work readiness services provided. LVI currently operates in Louisiana and Florida. More information about Limitless Vistas, Inc. can be found at http://www.limitlessvistas.org.
About AECOM
AECOM is a global provider of professional technical and management support services to a broad range of markets, including transportation, facilities, environmental, energy, water and government. With approximately 45,000 employees around the world, AECOM is a leader in all of the key markets that it serves. AECOM provides a blend of global reach, local knowledge, innovation and technical excellence in delivering solutions that create, enhance and sustain the world's built, natural, and social environments. A Fortune 500 company, AECOM serves clients in more than 140 countries and had revenue of $8.2 billion during the 12 months ended Sept. 30, 2013. More information on AECOM and its services can be found at http://www.aecom.com.