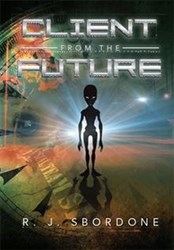 Laguna Beach, Calif. (PRWEB) November 23, 2013
"Client from the Future" by R.J. Sbordone chronicles the story of Dr. Joseph Morgan, a clinical psychologist and highly decorated former Navy SEAL, who discovers that one of his clients, is from the future. His client informs him that extraterrestrials have secretly invaded Earth and are planning to exterminate the human race.
Dr. Morgan also learns that these extraterrestrials have inserted their computer chips into the brains of the most influential human leaders and politicians so that they can carry out their sinister agenda.
To stop the extraterrestrials from exterminating the human race Dr. Morgan's client provides him with advanced technology from future and transforms him into a virtual superman by altering his genetic makeup.
"The book is a page turner that is filled with action and plenty of surprises so that when you think you know what is going to happen next, the story changes leaving readers on the edge of their seat and unable to put down the book," Sbordone said.
"Client from the Future"
By R.J. Sbordone
ISBN: 978-1-48366-890-1
Softcover retail price: $19.99
E-book price: $3.99
About the author
R.J. Sbordone lives in Laguna Beach, California. He holds a doctorate in psychology from UCLA and completed his postdoctoral training at the UCLA Neuropsychiatric and Brain Research institutes. He has a private practice where he sees patients with traumatic brain damage and post-traumatic stress disorder. He has been interested in science fiction since he was a child.
Available at http://www.amazon.com, http://www.bn.com and http://www.xlibris.com.