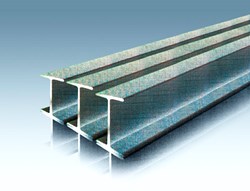 The firm should have carefully considered the consequences of this particular task, and assessed the related risks to workers.
Bolton, UK (PRWEB UK) 27 November 2013
The company was prosecuted by Trafford Magistrates' Court, on Friday 15th November, after the Health and Safety Executive (HSE) identified safety failings with the method of work. (2)
According to the press release, on the day of the incident, the victim - a 52-year-old man, who has preferred to remain anonymous – was standing next to a forklift truck, when a six-metre-long steel beam slid from the forks, falling on to his left leg. The Court heard that the beam was meant to be loaded into an empty skip, to be delivered to a customer. (1)
As reported by the press release, the man – who now walks with a limp - suffered a series of injuries, including a fractured ankle, and a deep cut to his left shin. (1)
An investigation by the HSE found the firm had used this unsafe method on previous occasions, failing to plan the work properly.
Commenting on the news, Adriano D'Ambrosio, Executive at Asons Solicitors, said that:
"This was an entirely preventable injury, caused by disregard for basic safety rules. It is alleged, that there was no formal safe system of work for the beam lifting task.
"The firm should have carefully considered the consequences of this particular task, and assessed the related risks to workers.
"Here at Asons, we strongly believe that no person should suffer serious injuries because of negligence from an employer. Those who have experienced similar working conditions should not hesitate to pursue health and safety compensation."
Following the hearing, HSE Inspector Sarah Baldwin Jones, said:
"The injuries suffered by J Doyle's employee are still affecting him today, causing him a considerable amount of pain more than a year after the incident
"The firm should never have allowed a long steel beam, weighing over 100kg, to be lifted on a forklift truck in this dangerous way. The work was not planned, and the risks ignored.
"The company has now stopped using a forklift to lift steel beams, and instead they use a HIAB crane on the back of a flatbed truck to deliver steel beams to customers. If they had lifted the beam using this equipment, at the time of the incident, then the employee's injuries could have been avoided."
J Doyle Ltd was fined £2,000, and ordered to pay prosecution costs of £1,500, after pleading guilty to breaching the Lifting Operations and Lifting Equipment Regulations 1998.
Asons Solicitors suggest that if someone would like to learn more about the consequences of construction accidents, or if they would like to better understand the Industrial Accident Claim process, that such information is available at http://www.asons.co.uk, or via an expert helpline on 01204 521 133.
(1) Health and Safety Executive, 15/11/2013 press.hse.gov.uk/2013/bolton-recycling-firm-in-court-over-steel-beam-injuries/
(2) Trafford Magistrates' Court, 15/11/2013 - Case Number S20130424

About Asons Solicitors:
Asons Solicitors is a Bolton-based law practice that specialises in personal injury and industrial disease claims. Founded by brothers Imran Akram and Kamran Akram, Asons Solicitors has developed to become a young and dynamic law firm that delivers practical solutions to clients in times of difficulty. Their continued focus on their staff has seen them awarded with the Investors in People "Gold Award"; which is reflected in the professional and personable approach they take in working with clients. They strive to grow and to develop, and their supportiveness and attention to detail ensures that their clients use them time and again.
For further information contact:
Email: info(at)asons(dot)co(dot)uk
Website: http://www.asons.co.uk